'Giant Slayer' rakes in ho-hum $28 million debut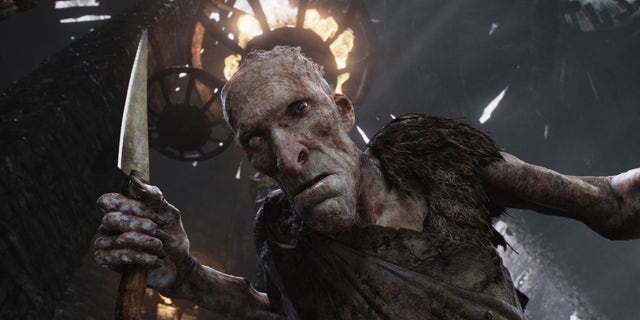 LOS ANGELES – It wasn't exactly a mighty victory, but "Jack the Giant Slayer" won the weekend at the box office.
The Warner Bros. 3-D action extravaganza, based on the Jack and the Beanstalk legend, made just $28 million to debut at No. 1, according to Sunday studio estimates. It had a reported budget of just under $200 million.
But the studio also hit a milestone on the global front with Peter Jackson's fantasy epic "The Hobbit: An Unexpected Journey" crossing the $1 billion mark worldwide. The first of three films based on the classic J.R.R. Tolkien novel has made $301.1 domestically and $700 million internationally.
"Jack the Giant Slayer" comes from Bryan Singer, director of "The Usual Suspects" and the first two "X-Men" movies. It stars Nicholas Hoult, Ewan McGregor, Ian McShane and Stanley Tucci.
Among other new releases, the college romp "21 & Over" from Relativity Media made only $9 million this weekend to open in third place. And the horror sequel "The Last Exorcism Part II" from CBS Films debuted in fourth place with just over $8 million.
Jeff Goldstein, Warner Bros.' executive vice president of theatrical distribution, said "Jack the Giant Slayer" opened lower than the studio had hoped, but he's encouraged by its CinemaScore, which was a B-plus overall and an A among viewers under 18. One bit of good news for "Jack" is that it had a 56-percent uptick from Friday to Saturday, suggesting strong word-of-mouth and more family audiences for the PG-13 adventure.
"That tells us that the audiences that are seeing it really do like it," Goldstein said. "The international opening in Asia has been very strong -- the 3-D component of the special effects works in a big way outside the domestic marketplace."
"Jack the Giant Slayer" made $13.7 million in 11 international territories for a worldwide total of $41.7 million. Internationally, "A Good Day to Die Hard," the fifth film in the blockbuster Bruce Willis franchise, was the big winner of the weekend with $18.3 million for a global total of nearly $222 million.
Domestically, this is the sixth weekend in a row that movie ticket sales are down, said Paul Dergarabedian, box-office analyst for Hollywood.com. He pointed out that many of the action pictures aimed at men this year -- including "Snitch," "The Last Stand," "Bullet to the Head" and "Parker" -- have been disappointments at the box office.
"Other films have done OK but we need to do better than OK to keep up with last year's pace," he said. "Where is the audience? I don't want to overstate this, but where are the guys?"
Among the few bright spots, the Jason Bateman-Melissa McCarthy comedy "Identity Thief" has become the first film to cross the $100 million mark this year. Now in its fourth week in theaters, the Universal movie has made $107.4 million.
"This is a tough marketplace right now. Everything is underperforming," Dergarabedian said. "There hasn't been a huge breakout hit yet. For every `Identity Thief' there have probably been 10 other films that have underperformed."
Meanwhile, winners at last weekend's Academy Awards, including "Argo," "Silver Linings Playbook" and "Life of Pi," are still sticking around in the top 20 after several months in theaters, further underscoring the weakness of recent new releases.
But Dergarabedian was optimistic that things will turn around with the opening next week of Disney's "Oz the Great and Powerful," a much-anticipated prequel to "The Wizard of Oz" starring James Franco and directed by Sam Raimi. It's expected to open in the $75-100 million range.
"We need the cavalry to arrive and we need them soon," he said. "Maybe James Franco is the cavalry."
Estimated ticket sales for Friday through Sunday at U.S. and Canadian theaters, according to Hollywood.com. Where available, latest international numbers are included. Final domestic figures will be released Monday:
1. "Jack the Giant Slayer," $28 million. ($13.7 million international.)
2. "Identity Thief," $9.7 million.
3. "21 & Over," $9 million.
4. "The Last Exorcism Part II," $8 million.
5. "Snitch," $7.7 million.
6. "Escape From Planet Earth," $6.7 million.
7. "Safe Haven," $6.3 million.
8. "Silver Linings Playbook," $5.9 million.
9. "A Good Day to Die Hard," $4.5 million. ($18.3 million international.)
10. "Dark Skies," $3.6 million.
------
Estimated weekend ticket sales at international theaters (excluding the U.S. and Canada) for films distributed overseas by Hollywood studios, according to Rentrak:
1. "A Good Day to Die Hard," $18.3 million.
2. "Hansel and Gretel: Witch Hunters," $15.2 million.
3. "Jack the Giant Slayer," $13.7 million.
4. "Les Miserables," $10.5 million.
5. "The Hobbit: An Unexpected Journey," $9.2 million.
6. "Django Unchained," $8 million.
7. "New World," $7.3 million.
8. "Miracle in Cell No. 7," $6.2 million.
9. "Beautiful Creatures," $6 million.
10. "Flight," $5.2 million.