Gianna Simone recalls childhood abuse, struggles in foster care before finding fame in Hollywood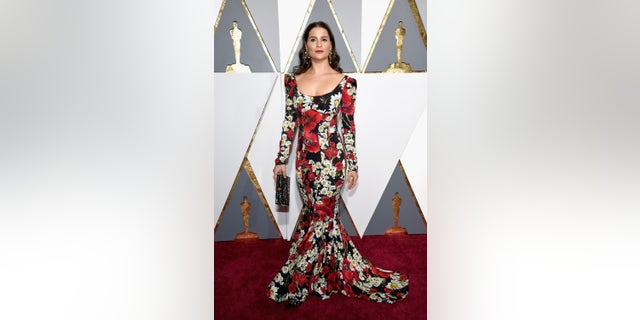 Gianna Simone's life these days as an actress can be best described as a fairytale set in Hollywood.
But before the 28-year-old found fame as a starlet who socializes in Cannes and is recognized by numerous fashion magazines as a "Best Dressed" star, she endured a troublesome childhood and was abused before she turned 14.
EVAN RACHEL WOOD EMOTIONALLY RECALLS SEXUAL ASSAULT DURING CONGRESSIONAL TESTIMONY
While Simone was hesitant to elaborate on the turmoil she faced, she revealed she was abused as a kid at home. She did not say who her abuser was.
She said her father was "a source of love" who was unstable in his own life.
"He was there as much as he could," Simone told Fox News.
Simone found herself taken out of her home by the Department of Social Services and then tossed from family to family in Boston's inner-city foster care system, she told us.
"I went from one hell to another," Simone said. "Many nights, they'll place you with whoever has a house open. I've been in crazy houses, housing projects. I was with a woman who wanted babies. So I had to sleep in a baby bunk one night.
"It was scary. I didn't know who I was going to end up with. I didn't know if there were any men in the house that were going to rape me. I bounced around because most people wanted young kids… I was rejected out of many houses."
Simone eventually found herself in a girls' home in Chelsea, Massachusetts.
"These girls were serious toughies," said Simone. "One girl had a knife slice from the corner of her lip up to her ear. I remember just sitting in a room with all of these girls and thinking, 'I hope I don't have to fight for my life every day because this is going to get exhausting.'"
Somehow, Simone befriended the other girls, developing a sisterhood.
"I never remember physically fighting," she explained. "I never remember even yelling at any of the girls. They were all just tough and trying to survive. We were all in the same boat."
Still, Simone's luck continued to dwindle. Kathy DeMarco, a local gym owner she befriended, was eager to adopt the teen. However, DeMarco suddenly passed away at age 52.
"Kathy would come to court every couple months," recalled Simone. "It just wrecked my world."
But before DeMarco died, she gave a seemingly hopeless Simone a final gift.
"She always brought me to a small church," described Simone. "I would say, 'These are a bunch of loonies. This is a looney bin.' But I would go because I loved her and she genuinely believed this was a wonderful place with wonderful people.
"After she passed, I kept going. I knew in my heart she loved it and she was such a good person. She always gave credit to God. I would hear the word of God and I would see all these people and how they weren't actually crazy. They were actually filled with love. That was such a strange thing for me because I wasn't around people like that."
Today, Simone identifies herself as a Christian, a decision she said has forever changed her life for the better.
"I was going through a lot of scary times filled with instability," she said. "And I still struggle with that in my life, to be honest... Just trusting people, having a stable home life. I'm still trying to get over that. But at the root of things, I know... God has a plan and purpose for all of our lives.
"I feel like understanding that really brought me out of the darkness I was going through and continue to go through sometimes… It has gotten a lot better. But in hard times, it's who and how I lean on."
Simone's relationship with her father preservered. And when she thought about modeling at age 16, he cheered her on.
"We planned a portfolio and I got it done," said Simone. "I got rejected all over the place… I was booking work on my own at this point. I just felt this is what I was supposed to be doing in my life. I felt so much passion for it. And by the grace of God, I got my own apartment and was providing for myself."
Simone later signed with a top modeling agency in Massachusetts. And by 21, she found herself heading to Los Angeles where she was eager to take on a new challenge.
"I fell in love with acting and was slowly taking a few parts," said Simone. "I knew LA was the place to act. So I just packed up and moved."
Simone has garnered several roles in film and television, including 2013's "Star Trek: Into Darkness" and 2016's "Mother's Day," one of the highlights of her career. It featured an A-list cast, including Jennifer Aniston, Julia Roberts and Kate Hudson, among others. It was Garry Marshall's last directorial project before he died that same year at age 81.
Simone still vividly recalls the first time she spoke to Marshall.
"I said, 'Do you need anything?'" she recalled. "He said, 'Yeah. I just want you to come to the set as you… Don't change anything about yourself. I want you and I want you to be the one who shows up.' That gave me so much peace of mind… He was so humble and kind… Working with Garry was such an honor and privilege."
Simone is still staying busy. She's already completed two films and her most recent, "Unbroken: Path to Redemption," is currently in post-production. She also runs the Gianna Simone Foundation, which aims to support abused children in foster care and animals.
And as far as what the future holds, Simone isn't worried about Hollywood's many temptations leading her astray.
"If people ever want to know why I have good morals, why I don't sleep around or drink or do drugs, why I choose to walk a really clean life and clean path, they can ask," she said. "… I embrace everybody. That's the only way life can be lived. I think I will always be that way, no matter what happens or where I am in the world."