Geena Davis: Women are portrayed as 'virtually second-class citizens'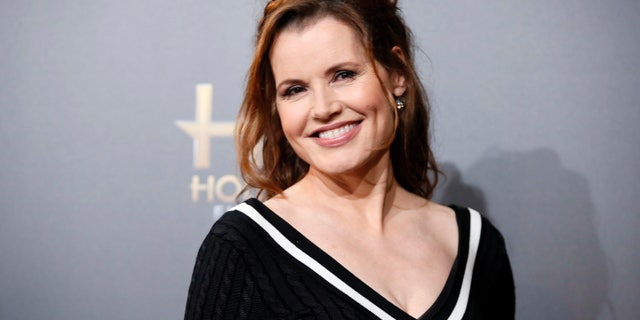 LOS ANGELES – Geena Davis delivered a strong message about empowering women in the media in her keynote speech at the third annual Women in Entertainment Summit Thursday in Los Angeles.
Davis, who played the first female president on ABC's "Commander in Chief," stressed the importance of women taking on political roles.
"If we saw more women on screen holding political office, it would be easier for women to retain political office in real life," she said.
Davis, who won the Oscar for Best Supporting Actress in 1989 for her role in "The Accidental Tourist" and who delighted moviegoers with her iconic feminist role in "Thelma & Louise," called for changes in the roles of women in entertainment and society.
"Here is one theory of change that is very powerful and could have an immediate impact… that underrepresentation of women on screen in Hollywood can be changed overnight," she said.
"The next TV show someone creates… the next [children's] show that someone creates… it can be instead of two out of six female characters, make them half.
"Media itself can be the cure for the problem that it has created. In other words, we can create the future through what people see."
Davis, 61, said the media can also change perceptions of how women are treated.
"Right now, it is showing us as virtually second-class citizens. We can turn all of that around," said the mother of three.
"Let art lead the way in presenting an inclusive and intersectional content, and the real world will be inspired by that, and it's a simple and easy fix."
Davis, who founded the Geena Davis Institute on Gender in Media in 2004 in her ongoing effort to make Hollywood less sexist, said men and women, working together, can overcome biases against women.
"All of us, men and women, can become conscious of our implicit bias against women and work very proactively to overcome it," she said. "It helps to realize the powerful impact…popular culture had on creating it.
"Men and women — we all were trained unconsciously to think of women not as important…. We have to improve what is going on immediately, and then we can receive the benefits of actual fair representation."
Her speech comes after weeks of bombshell sexually accusations have plauged some of Hollywood's biggest stars. This week, Dustin Hoffman was accused of groping a film assistant when she was 17 in 1985. Also this week, Jeremy Piven was accused of grabbing an actress' breasts on the set of "Entourage" and Kevin Spacey was accused of making sexual advances on two men when they were 14 years old and Spacey was in his 20s. One many accused the star of attempted rape and Spacey has said he is seeking treatment.
The barrage of accusations has prompted many A-list female stars to speak out about the issues women in Hollywood face.