Gary Sinise Documentary Raises Money For U.S. Troops Every Time You Watch It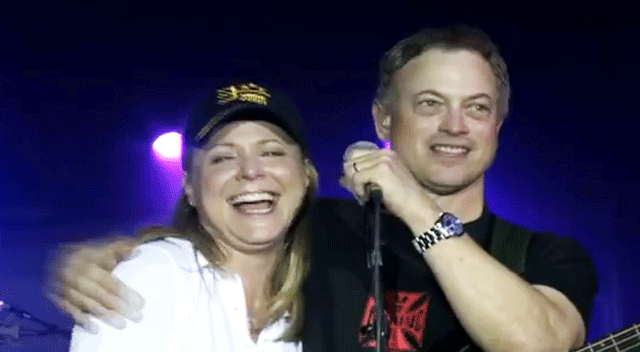 Gary Sinise played double amputee Vietnam War survivor Lt. Dan in the Oscar-winning drama "Forest Gump." Eight years ago he formed a band of the same name, a band that has supported and performed for U.S. armed forces all over the world.
On July 4th, Sinise's love of music and country can be seen in the new film "Lt. Dan Band: For the Common Good," a documentary celebrating America's heroes and chronicling the Academy Award-nominated actor's band of patriots.
"I'm on the advisory board for the G.I. Film Festival in Washington, D.C . Five years ago we gave Gary our Spirit Award. That's when he and I first started up a friendship," the film's director/producer, Jonathan Flora, told FOX411's Pop Tarts column. "He found out I was a veteran of the 82nd airborne, and I started finding out about the things he does to support our troops. Of course I had no idea whatsoever, because he doesn't do it for accolades or for self-promotion. I just remember being so inspired by his example of giving back that I wanted to share that inspiration."
"Lt. Dan Band: For the Common Good" is being promoted with a unique, cause-driven marketing scheme designed to directly benefit the troops, and enable anyone and everyone to watch the film.
"The heart of this movie is really giving back to those who are willing to lay down their lives for this nation. Even the act of streaming the movie [which costs $3.99]. One out of every four dollars is going back to the Gary Sinise Foundation, so that he can continue doing what he's doing," Flora said, adding that Sinise's foundation honors our nation's defenders through an array of programs and projects, in addition to supporting several charities including the USO, Operation International Children and Snowball Express.
CLICK TO GO THE MOVIE'S STREAMING SITE.
And Sinise isn't the only Hollywood face in the film. Academy Award winners Jon Voight and Robert Duvall, actress Raquel Welch, singer Connie Stevens, and others have supporting roles in the film.
"It's really our men and women that are the stars of this movie. We're taking that spotlight of celebrity that society will put on someone like Gary and turning it over and putting it on our men and women in uniform, whether they're military or first responders, or family," Flora said. "This isn't a praise piece about Gary. This is following Gary and the band, using them as a vehicle to meet the men and women in uniform."
The filmmakers behind "Lt. Dan Band: For The Common Good" also made it their mission to capture as many different branches of service as possible, and as many different environments.
"We were at a boot camp for the Navy and Army, we were at Great Lakes Naval training facility, and I got to go to Fort Leonard Wood, where there is all the basic training going on," Flora said. "And we went to Iraq and Kuwait. In Iraq, Gary didn't want to go in a big group. He said, 'I want to go out to some FOBs,' forward operating bases, where they just simply don't get visitors. For a lot of the trip, it was just four of us, going around to these places and often Gary did hear that he was the first celebrity guy to come out there and just visit. Our men and women, their B.S. meters are finely, finely tuned. They know who's there for a photo op and they know who has their back."
Flora hopes the film  touches the hearts of all Americans, and shows our servicemen and women that their sacrifices haven't been overlooked.
"Not only have we not forgotten them, but we're saluting them and we have their back," Flora said. "You're laughing, you're crying, you're clapping. More importantly, you're motivated to want to go and do something. The more people that do something, the more people that will benefit."