Gals Get in on the Action in 'Human Target'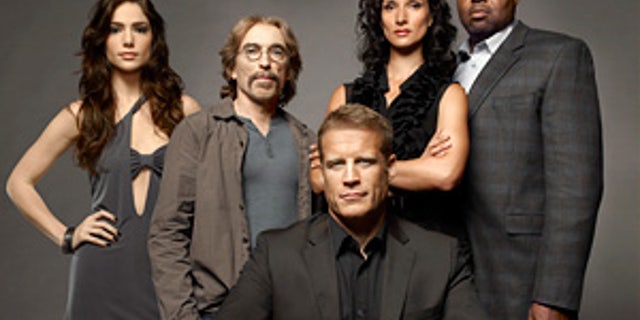 If a sexy leading man and killer action sequences weren't enough to drive female viewers to watch Human Target, the series is hoping some girl power might entice them.
Janet Montgomery, who recently played E's assistant on Entourage, joins the show as Ames, a super-talented and smart thief who brings her street experience to the team. Indira Varma, who starred in The Whistleblowers and HBO's Rome, will play the team's sophisticated billionaire benefactor and new boss, Ilsa.
Watch full episodes of Human Target in our Online Video Guide
"I don't know about you, but I've always thought that men just love when women tell them what to do," jokes Chi McBride, who plays Winston. But seriously, "having that element provides for a lot of tension and conflict."
Adding women to the mix of a testosterone-charged show isn't a new concept. The 2004 reboot of Battlestar Galactica recast the character of Starbuck as a tough-talking, chain-smoking woman. CBS's Hawaii Five-0 update cast Grace Park as Kono, a male in the original series. Then there's The Big Bang Theory, which recently added Mayim Bialik and Melissa Rouch as series regulars, forcing the show's four geeky leads into even more awkward interaction with women.
Do you plan on watching the Season 2 premiere of Human Target?
Human Target's new showrunner Matt Miller (Chuck) says the series needed a good dose of estrogen. He stressed that the changes are not just cosmetic either. "It wasn't like, 'OK, we need two chicks on the show,'" Miller says.
"They're females, but it's not like Baywatch females running around," star Mark Valley adds.
For Varma's character Ilsa, Miller said the team needed someone to keep the guys in check, "someone these guys, who are just running roughshod, have to answer to."
Montgomery's Ames, meanwhile, will bring out the paternal side of the males, who will try to channel her thieving ways into more selfless projects.
McBride says the new team members have meant bigger changes to the dynamic of the show overall. "Our show was driven more by mythology last year, and now it's going to be driven by characters," he says.
What do you think? Will more females come running to the series now?
View original Girls Get in on the Action in Human Target at TVGuide.com
Related Articles on TVGuide.com
Other Links From TVGuide.com