'Frozen' review: New Disney musical comes up cold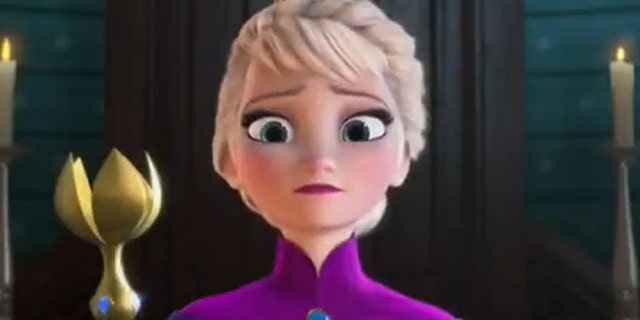 Disney Animation attempts to emulate their classic animated musicals with "Frozen," an adaptation of Hans Christian Andersen's "The Snow Queen," but comes up a little, well, cold.
"The Snow Queen" is prime real estate for a Disney adaptation, and this musical features a few unexpected plot twists, but it is dimmed by lackluster humor and a rushed structure not as cohesive as previous Disney films.
However, "Frozen" does modernize the Disney princess meme by turning the vulnerable princess and prince charming story on its head. All the stereotypes are here, but "Frozen" puts them on ice. Rather than focusing on a princess who can only be saved by a prince, the film tackles a different type of love-- the power of a sisterly bond.
Elsa (Idina Menzel) and Anna (Kristen Bell) are sisters gifted with the magical ability to create and manipulate ice. As young girls they innocently use their magic to play games, until an accident almost kills Anna. To save young Anna, a pack of trolls removes her magic and memories, giving her a new lease on life. Elsa, though, is confined to a life of solitude to protect herself and her family from her reckless powers, a decision that keeps her from seeing Anna for many years.
Years later, during her coronation, Elsa learns that Anna is engaged to a handsome prince she only met minutes before, prompting her powers to go haywire and accidentally turn the entire kingdom into a land of ice and snow. With the kingdom now decrying her a monster, a scared and embarrassed Elsa flees into the mountains to live in her magical ice castle. With her forgotten past rushing back, Anna, joined by Olaf (Josh Gad), a dopey but lovable, larger-than-life snowman and ice salesman, venture to bring Elsa back home.
The biggest assets to any classic Disney musical are the songs, and the tunes in "Frozen" just happen to be the weakest link, making this attempt to return to the glory days of "The Little Mermaid" and "Aladdin," an arduous, frigid journey. The songs are by Tony-winning musician Robert Lopez and his wife, Kristen-Anderson Lopez, and while their "Avenue Q" and "Book of Mormon" have become Broadway classics, the songs in "Frozen" are instantly forgettable. The tunes are given a pop feel, as if inspired more by "Glee" than classic Disney. Power ballad after power ballad could have provided Broadway superstar Idina Menzel with a major platform, had they been memorable. Noticeably absent are those grand, full-cast songs that Disney did so well during the Oscar-topping Alan Menken days.
Perhaps those days are gone for good, but hopefully not.
The animation, however, is beautiful. "Frozen" features the whispery wonderland of color that Disney typically does so well. Both the ice palace and the queen's castle are gorgeous, harking back to those early Disney princess days. The digital animation gives each crystalline snowflake or blast of arctic magic a three-dimensional pop. The characters are impeccably drawn, but the weak screenplay surprisingly renders them lifeless and wooden. Only Olaf, the bucktoothed snowman and typical Disney comic relief, provides bursts of energy from the cast. Credit to Josh Gad, who voices Olaf, for adding a little heat.
"Frozen" will certainly appeal to many children, especially young girls in princess mode, but unfortunately due to clunky pacing and lackluster songs, we'll have to keep on waiting for a new Disney classic.
Walt Disney Pictures. MPAA Rating: PG. Running time: 1 hour and 42 minutes.