Friendly exes? Patrick Dempsey's estranged wife wishes him a happy 50th birthday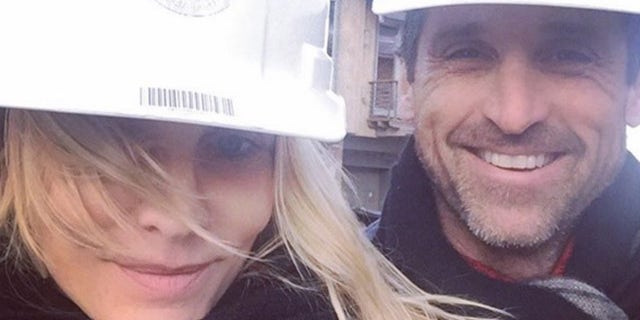 Patrick and Jillian Dempsey are giving their fans more hope that the two have reconciled.
Jillian took to Instagram to wish Patrick a happy 50th birthday on Wednesday, sharing a selfie of the two of them wearing matching white hard hats. Last January, the celebrity makeup artist filed for divorce from the former "Grey's Anatomy" star after 15 years of marriage.
NEWS: Patrick Dempsey and Estranged Wife Jillian Reunite in Surprise Public Outing
"Happy 5 "0"!!! @patrickdempsey," Jillian wrote, adding a winking emoji.
Jillian made no mention of why the two were wearing hard hats, but we do know that Patrick and Jillian are noted architecture aficionados. In April, the two put up their amazing $14.5 million Frank Gehry-designed home in Malibu, California for sale, where they lived with their three children -- daughter Talula, and twin sons Darby and Sullivan.
The pair's hats are emblazoned with a Magleby Construction logo -- a luxury home builder in Utah -- which also has some wondering if the two are building a getaway together. Patrick building a home in Utah would make sense given that he's an avid skier, winning a state downhill championship when he was in high school.
One thing for certain is that the two appear to be on very good terms these days, as Patrick accompanied Jillian to Marie Claire's Image Maker Awards on Tuesday night, where she was honored for her professional work. Although the pair skipped the red carpet, they did happily pose for a photo inside together, where they were hilariously photobombed by two of their children. Last November, Patrick and Jillian were also spotted holding hands and riding bikes together in Paris.
Still, Jillian was notably without her wedding ring on Tuesday. She instead chose to wear a ring on her left middle finger, as seen in this Instagram photo she shared of herself with one of her A-list clients, Kristen Stewart.
WATCH: Patrick Dempsey Feels 'Reinvigorated' After Being Killed Off 'Grey's Anatomy'