Frank gets a nasty reception from cop-hating students in 'Blue Bloods'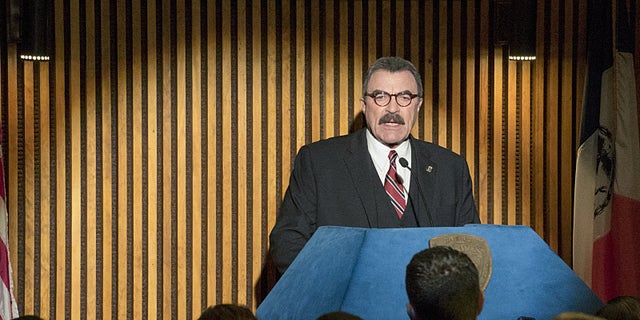 TV Recap: Cop-hating students boo Frank off stage on "Blue Bloods"
[Spoiler alert! The following contains spoilers from "Blue Bloods"]
After a week of real life campus unrest, along comes Tom Selleck's "Blue Bloods" with an episode showing how his NYCPD Commissioner character Frank Reagan is booed off a college stage by cop-hating students.
Friday's show reveals Frank telling his aide Garrett (Gregory Jbara) that he's going to boldly go and make a speech to students at his granddaughter Nicky's (Sami Gayle) ultra-liberal college.
Click here to subscribe to FOX411's YouTube channel
Although Garrett warns him it won't go well, Frank says he wants to meet the challenge for Nicky.
However, Nicky is also worried after she sees students putting up nasty posters around school slamming her grandpa. And when she speaks with them, they claim the police are out of control and brand the commissioner a "fascist" and "racial profiler."
Nicky advises him not to deliver the speech. Frank sighs that it's a sad day when students hate the NYPD and won't accept diverging opinions.
He refuses to drop out of the event and tells his granddaughter, "I'm used to not fair. It's a big part of this job."
Later, Frank and Garrett muse about how kids don't respect cops anymore.
Garrett believes that most young people have no significant interactions with police officers, and Frank says that's why the bad stories take hold.
Frank confides to Garrett he's worried that Nicky will be embarrassed about what he might say. He remembers that the last time he spoke to one of her classes was when she was in the fourth grade. Garrett wishes he would just remember that time and not do the college speech.
He's still trying to convince his boss to skip it in a later scene in which Frank gazes at a picture of his idol Teddy Roosevelt for inspiration.
Frank shrugs that he's going to Nicky's college because he said would—and more importantly, he tells Garrett, "Someone has to tell our side. I have to try."
Frank adds that he's been Nicky's father figure and he wants to lead by example.
But at her school, Frank is booed when he's announced and things get worse from there, as an African-American student gets out of his seat and starts chanting loudly against Frank. Others soon join him as they wave "Hands off, NYPD" signs.
As Nicky's eyes fill with tears, Frank tells the angry crowd he's happy to speak but can't when they're all yelling.
Ultimately, though, he must give up and leave the stage without delivering his speech.
The depressing incident leaves everyone silent at the Reagan family dinner table, until Nicky's mom Erin (Bridget Moynahan) tells Frank she's sorry about what happened.
Frank's son Jamie (Will Estes) chimes in that in college now, "You don't get an education. You get indoctrination."
Nicky then takes out a Teddy Roosevelt speech to read to her family that stresses how a man is a success for merely getting into the arena, and reminds a beaming Frank that's what he had read to her fourth grade class.
Also on the episode, viewers see Frank's detective son Danny (Donnie Wahlberg) trying to deal with his wife Linda's (Amy Carlson) PTSD after she was shot last season.
Linda begs him to see her therapist and he does but ends the session abruptly after the shrink delves into his family past.
But later, in a meeting with Linda and the therapist, Danny says he'll do whatever it takes to fix his marriage.
Meanwhile, Danny faces more torment when a woman who had given him and partner Maria Baez (Marisa Ramirez) information about serial killer Thomas Wilder (in an earlier episode) turns up dead outside Danny's church.
DNA proves Wilder is to blame in the murder seemingly committed to taunt detective
Danny, who has been unable to catch him this season.
Danny and Maria visit Wilder's mother, who recalls that her son used to kill animals and was beaten up by his father.
They borrow her cell phone to track Wilder and get a ping that leads them to an apartment building; Wilder, who used Danny's name to rent the apartment, has already escaped and calls Danny to gloat.
And Danny is further shocked when the man tells him what time his wife Linda and kids left their home that morning.
"I will kill you!" Danny yells into the phone.
The detective arranges to have cop cars guard his house and although Danny tries to downplay it, wife Linda is worried.
After Danny finds out Wilder has rented a boat in his name, he and Maria storm the dock -- and the boat explodes in flames just seconds before they reach it.
To Danny's frustration, forensics can't determine if Wilder was blown up in the boat or not.
"Blue Bloods" airs Friday on CBS.