Former stockbroker for A-list movie stars found dead in New York apartment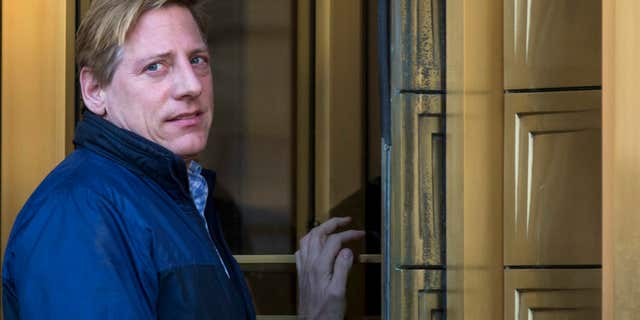 NEWYou can now listen to Fox News articles!
A former stockbroker to the stars, said to have given inspiration to Leonardo DiCaprio for his performance in "The Wolf Of Wall Street," has been found dead at 53.
Dana Giacchetto, who became famous in the 1990s for providing financial services to a string of celebrities, was discovered face up in his bed on Sunday, foaming at the mouth, according to the New York Daily News.
He was regularly photographed with the likes of DiCaprio, Cameron Diaz, Ben Affleck and Matt Damon at the height of his success.
But, after he was investigated for stealing millions from others in order to prop up the portfolios of some of his famous friends, he was taken to court.
He received a four-and-a-half-year jail sentence in 2001 after pleading guilty to fraud involving $9 million of his clients' money.
In 2014, he was charged again with fraud for using someone else's credit card to buy alcohol, a plane ticket and food, according to court filings.
The Daily News reported that he died after a weekend of partying, during which witnesses said he got into a scuffle with nightclub security guards.
His body was found at home in his Upper West Side apartment in New York City.
According to Vice News, which interviewed him in 2014, Mr. Giacchetto kept a suitcase of photos of his time partying with DiCaprio and was still attempting to develop new businesses, such as a luxury food range that allowed people to eat lobster from a can.
He told Vice's reporter that DiCaprio used to stay at his home for months and the pair used to have matching cockatoos.
Years later, Mr. Giacchetto reportedly gave DiCaprio inspiration for his role of disgraced stockbroker Jordan Belfort in 2013 film "The Wolf Of Wall Street."
Photos posted on Vice's website provided by the ex-con also showed him partying with Naomi Campbell, Tobey Maguire and Q-Tip.
Describing his time with the stars, Mr. Giacchetto said: "It's a really sexy feeling, thinking ... today I can do anything I want. I can go wherever I want and everything's going to be okay and no-one's going to say 'no.'"