Former '7th Heaven' star Barry Watson shares the story behind 'Date My Dad'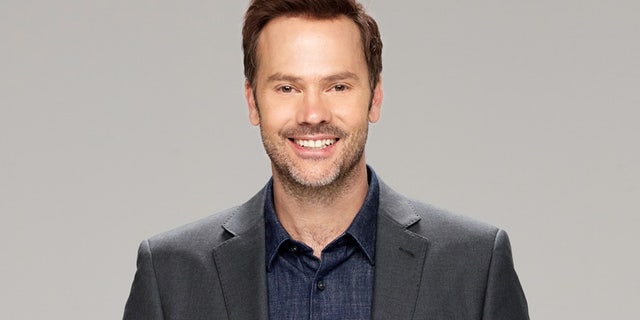 NEWYou can now listen to Fox News articles!
After playing teen heartthrob Matt Camden for 11 years on the hit drama series "7th Heaven," Barry Watson was ready to become someone completely different onscreen.
"I had been getting a lot of single father concept shows over the last, maybe 4-5 years," the 43-year-old actor told Fox News. "And I didn't feel [any] of them got it. It was always the bumbling idiot father… none of it seemed right or authentic."
However, things changed in 2016 when Watson received a script for "Date My Dad."
"I read it before I went to bed one night and I emailed Barbara Fisher, of UP TV… I said, 'Ricky Cooper can only be played by me,'" he explained. "I loved the script. I laughed, I cried — all in the same scene… it was messy. It was real life… I just fell in love with it and was determined that it was mine. It became mine."
The series tells the story of Ricky Cooper, who completely dedicates his life to fatherhood after losing his beloved wife Isabella. But three years later, his three daughters are willing to do anything to see their father fall in love and find happiness again. The show also features Hollywood bombshell Raquel Welch, who stars as his live-in mother-in-law.
Watson believes "Date My Dad" is different because families can watch the show together.
"I think nowadays the business is so different right now… Whatever the next hit is, everybody wants to make that show. I don't think anyone is thinking outside the box," he explained. "No one is looking at the climate in our society and wondering how we can escape that. And I think a show like 'Date My Dad' brings families together. And there's nothing like that. I don't know why the networks aren't doing it, but they aren't."
Watson, who is a father of three, finds it frustrating as a parent that there aren't enough shows geared towards families.
"There are no shows out there that I could think of where I can sit down and watch with my three kids," he said. "And I can enjoy it and they can enjoy it in their own way… This is the type of show that you could sit down with your whole family and enjoy."
These days, Watson doesn't mind if fans still recognize him from "7th Heaven," a show that originally aired from 1996 until 2007.
"The fact that people still remember something I did 15 years ago is pretty wonderful," he admitted. "It's nice to know it's stood the test of time in a way and that it's still very much a part of people's lives. No, I don't mind it at all. It's very humbling, actually."
Watson said he still stays in touch with his former TV family whenever he can.
"We don't talk every week or every month, but we always try to get together," he said. "I think last time Jessie [Jessica Biel] was opening up this whole fudge restaurant [Au Fudge in Los Angeles] that was geared towards families, so some of us got together for the opening of that to support her… We sometimes cross paths on social media so we'll catch up then.
"Beverley Mitchell is always the one that keeps everyone together. She's like the cruise director on the 'Love Boat.' She makes sure we all stay in touch at least a couple of times a year. At least once a year we get together. Now we all have families, so it's become a bigger family."
Watson didn't mention whether or not he is in touch with Stephen Collins, his former TV dad who admitted in 2014 he had inappropriate sexual contact with underage girls.
Unlike his character, Watson has gotten lucky in love. He's married to Natasha Gregson Wagner, the daughter of late actress Natalie Wood and film producer Richard Gregson. Her stepfather is actor Robert Wagner.
Watson wasn't fazed by Natasha's legendary Hollywood family. Instead, he's thankful they share a close bond in front of and behind the camera.
"I just fell in love with Natasha," he explained. "I didn't fall in love with her family. I fell in love with her. All of that comes with it, so I had to be prepared to be a part of this family… You know, I feel like I blended in well with everybody. I get along with both of her fathers really well in different ways… We're so lucky to have Natasha on the show for an episode.
"Robert got to do two episodes as well as a potential love interest for Raquel Welch. It was really fun to have him on set and share screen time with him. It's such a treat to have my wife on the show as well, just to spend time with her. It's a family property, but it also turned into a family affair as well."
"Date My Dad" airs Fridays at 9 p.m. on UP TV.