For Katie Holmes, show must go on after filing for divorce from Tom Cruise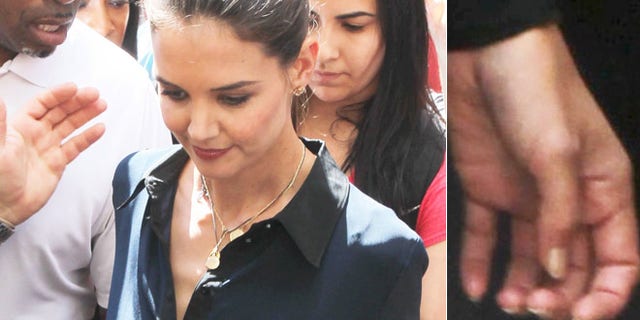 Katie's got backup — and she's not leaving home without it.
Katie Holmes emerged from four days of seclusion in her Chelsea pad yesterday — her first public appearance since filing for divorce from Tom Cruise — surrounded by a pack of beefy security guards.
She flexed the heavy muscle amid fears she's being stalked by Scientology officials because of her bombshell split from church member Cruise — and concerns he might try to kidnap their daughter, Suri, 6, sources told The Post.
Holmes wore a blue button-down, long-sleeved dress but was missing a key accessory — her wedding ring.
FIRST PHOTOS: Katie Holmes mobbed in NYC.
She smiled faintly and cast her eyes down as she exited a black Mercedes-Benz sedan with Florida plates in front of 66 Seventh Ave. in Chelsea at about 9 a.m.
She was there for a scheduled appearance on the reality-TV show "Project Runway: All Stars."
Flanked by her crew of rent-a-cops, Holmes walked into Parsons The New School for Design, where the Lifetime show tapes.
A judge on the show, Isaac Mizrahi, later said Holmes, 33, did a bang-up job despite her turmoil.
"She did great," he told People.
Another source added, "She was engaged, articulate and wonderful."
Hours later, Holmes was spotted entering a Fifth Avenue office building. She arrived back at the $12,500-a-month Chelsea apartment she's renting for her and Suri at 3:25 p.m.
A swarm of media followed her into the basement parking garage, where she stayed in the Benz's back seat. Cops showed up 25 minutes later and ordered the paparazzi out.