First look: E.L. James' 'Fifty Shades' sequel, 'Grey,' goes inside Christian's naughty mind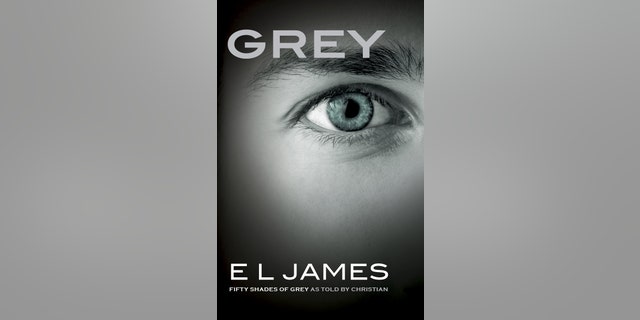 NEWYou can now listen to Fox News articles!
NEW YORK (AP) – What's the first thing that comes to Christian Grey's mind upon meeting future paramour Anastasia Steele?
How her pale, flawless skin might look "pink and warmed from the bite of a cane," of course. And that's only page five of the fan-anticipated "Grey," out Thursday from EL James and her grateful imprint, Vintage Books.
Starting with a nightmare flashing back to Grey's rough childhood, James soon gets down to BDSM business as she plows through the familiar story laid out in her first book, "Fifty Shades of Grey," only this time she tells it from the hunky billionaire's perspective rather than that of the young and innocent Ana.
Flip just a couple more pages and Christian considers correcting Ana's now-famous clumsiness with the aid of a riding crop after she stumbles into his Seattle office to interview him for her college newspaper. Then he lusts after her inviting mouth after she does one of those things she's also known for: biting her lower lip in a way that drives him lustily nuts — nuts to punish her, that is.
The new book was requested by fans, James said when she announced June 1 that "Grey" not only existed but would be out soon after — the book is being released worldwide at midnight local time on Thursday, timed to coincide with Grey's birthday. And she had mentioned in appearances as long ago as 2012 that she wanted to explore what turned into a massively popular erotic trilogy from Grey's point of view.
James teased readers with a chapter featuring Grey's narration at the end of her third book, "Fifty Shades Freed," and she had written through his eyes in 2010, as part of her episodic "Twilight" fan fiction when Grey was still Edward Cullen and James was still known as Snowqueens Icedragon.
The new book is bereft of any true surprises, like so many other add-ons, but that won't matter much too hard-core fans of this hard-core romance franchise.
In 2011, the trilogy's first volume set off a frenzy that had literati laughing at the former TV producer's writing skills but readers buying and sharing copies like crazy. In all, the three books sold more than 125 million copies around the world and spawned the first movie starring Jamie Dornan and Dakota Johnson, with at least two more planned.
After the movies, do we really need Grey's little interior asides, "Maybe this could work," for example? Is there anything we don't know about him already?
He frets as he navigates his paranoid jealousy that other, younger boys in Ana's life might want her, too. He frets that she wants vanilla sex, rather than the kind involving implements in the playroom of his mansion. And he frets as he — the needy, damaged sex dominant — realizes it's been too long between submissives.
Grey's self-loathing comes alive in predictable expletives — and predictable cliches as realizes his pull to Ana is "like a moth to a flame."
Meanwhile, in the Fifty fandom, "Grey" is the No. 1 pre-order of the year so far for Amazon's Kindle, though Harper Lee's "Go Set a Watchman" is tops for pre-orders on paper. And according to reports Down Under, frenzied fans in New Zealand were the first to get their hands on the book.
James' scheduled whereabouts when the book lands Thursday is a stop to sign copies in New York at a Barnes & Noble store.
Back on the British writer's freshest pages, our new narrator marvels at Ana's, er, oral skills after he relieves her of her virginity through traditional sex that he, too, has never experienced. But, as fans already know, he's not a hearts and flowers kind of guy and continues to lean on Ana to take his lifestyle for a spin.
Grey doesn't have an inner god to match Ana's ever-present inner goddess, but he does have some unspoken thoughts to match the voluminous email the two pass between them as they do in the original book.
He happily declares to himself, "Deal done, Grey!" when his fresh college graduate warms up to some BDSM and sex-toy shenanigans as her first taste of his world, for instance.
James, in media notes accompanying the book, said of her fans that she thinks "Christian might have some surprises in store for them." Really? To the very last drop of her retold story, Christian is just as he needs to be, at once gentle and rough, in need of control but compliant. And — SPOILER ALERT — ready to win his Ana back, leaving his creator free to write him another book or two.