Fired 'Teen Mom' star David Eason mom-shames co-star
NEWYou can now listen to Fox News articles!
Former "Teen Mom" star David Eason has landed himself in hot water with his social media comments once again after mom-shamming fellow co-star Leah Messer for letting her daughter wear makeup.
Messer shared a photo of her daughters Aliannah and Aleeah at Aleeah's cheer competition on Wednesday. In the image, Aleeah sits next to her mother donning her cheer uniform and a full face of makeup.
Messer captioned the family photo, "There isn't anything in the world I love more than being their Momma!"
But it seemed that Eason, who is married to "Teen Mom" star Janelle Evans, wasn't a fan of the photo. The former reality star commented on the 25-year-old mom's photo and said, "I can't believe Cory would allow her to wear that much makeup," referring to Aleeah's dolled-up face.
Messer lashed back at Eason and said, "@easondavid88 why are you even commenting on my post?"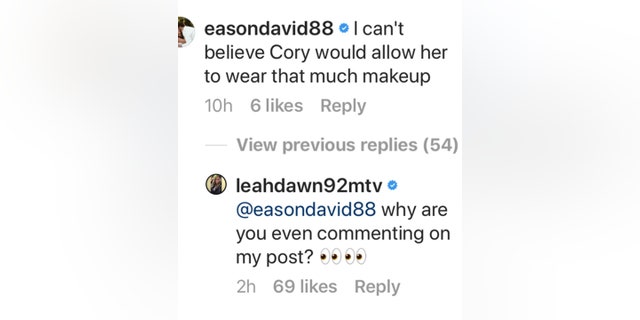 Another user responded to Eason's comment and called out the father of three. "So you're slamming another dad? Low," she remarked.
Eason then clarified his statements and wrote, "No she just probably didn't ask him if it was okay first," then added, "I doubt he would allow that."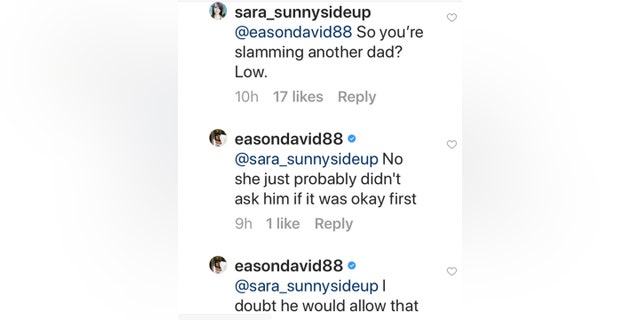 Back in February, Eason was fired from appearing on "Teen Mom 2" with his wife show after the dad reportedly shared a series of homophobic tweets.
In a statement to People, MTV said, "David Eason's personal comments do not reflect the views of MTV. 'Teen Mom 2,' effective immediately, we are ending our relationship with him."
The decision to fire Eason came after fans swarmed Twitter, urging for MTV to fire the reality star due to a series of tweets he allegedly shared in which he called gay and transgender people "abominations," according to People.
His remarks sparked backlash on the social media platform, prompting a Twitter war between users.
Following the scandal, Evans defended her husband in a statement to TMZ.
"David didn't understand how offensive people would get or how Twitter even works. Now that he realizes his voice is very strong within media/tabloids he has deactivated his account. He agrees he will keep his comments to himself from now on," she said. "David doesn't hate people from the LGBT community. My old manager was gay and used to be one of me and David's close friends. We attended Farrah's birthday in Miami with a lot of LGBT people there, and he didn't act in any type of way. We went had a good time and left. We are sorry for the comments that were made."