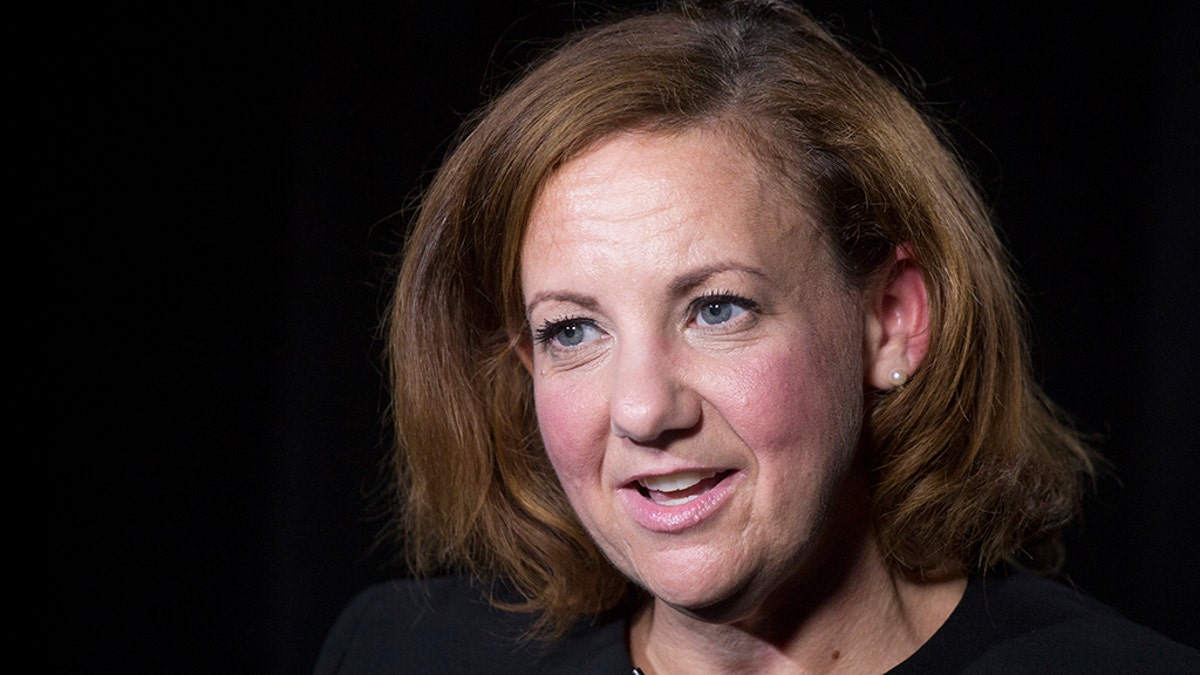 A former lawyer at the movie studio behind "The Hunger Games" and the "Twilight" films said a powerful boss she once viewed as a father figure demanded she be his slave and subjected her to nonconsensual sexual contact.
She said she stayed quiet about it for years because she feared losing her job and never working in entertainment again.
Wendy Jaffe, the former executive vice president of legal affairs at Lionsgate, told The Associated Press on Tuesday that her mind often shifted to "minimizing damage" and a mode she described as "spinning plates" to quickly come up with ways to stop general counsel Wayne Levin without humiliating him.
"I remember feeling like my head was spinning, and I'm sort of outside myself and I immediately went to the mode of spinning plates," Jaffe said, describing one of the earliest alleged encounters, in 2002.
"I started to question: 'How could this be happening? What did I do to make him think this was going to be OK?'" she continued, echoing the early reactions of many women who've spoken up about sexual misconduct since the #MeToo movement exploded last October. "And if I embarrass him, I'm in trouble. My career is over."
Jaffe finally complained about Levin as she left Lionsgate in 2016 and has only told her story publicly in recent days, first to The Wall Street Journal and then in an on-camera interview with AP. Lionsgate agreed to pay Jaffe a $2.5 million settlement.
Jaffe said her departure came with top executives making false and disparaging statements about her to prevent her from finding another job and fully vested stock options she was entitled to suddenly being removed from her account.
Her lawyers complained that those tactics constituted a violation of a settlement agreement that kept a lid on the reasons for her exit.
Levin's lawyer said they're not discussing Jaffe's allegations in the press.
Lionsgate, which noted Levin's departure "for health and personal reasons" in a November 2017 regulatory filing, said it doesn't comment on specific personnel actions.
In a statement, the studio said it takes sexual harassment allegations seriously, investigating them thoroughly and taking appropriate remedial action.
"We are committed to a safe, respectful and tolerant environment for all of our employees," the studio said.
Jaffe, 46, met Levin, 55, in 1997 while she was a student at Southwestern Law School in Los Angeles. Levin taught an entertainment law class and hired her as a law clerk in his office at Trimark Pictures, a small studio that Lionsgate acquired in 2000.
Jaffe said Levin started blurring the lines of their professional relationship about four years into her tenure. He would flirt and pepper conversations with sexual innuendo, she said.
The harassment started in 2001, and the physical assaults started about a year later, she said.
One day, while he was out of the office, she said he asked her to poke around his desk for some paperwork, but all she found was a briefcase full of Polaroid photographs of naked women in various sexual positions.
"That was when I first started to think that this was going in the wrong direction and had just taken a huge leap forward in the wrong direction," Jaffe said.
One night when they were both working late at the office, Jaffe said, Levin led her to a room the size of a walk-in closet and told her "he wanted me to be his slave and he wanted me on my knees to crawl to him."
Jaffe said Levin's alleged behavior led to rumors around the Lionsgate office that they were having an affair, which led to bullying from her colleagues. When the sexual abuse stopped in 2003, Jaffe said, Levin exerted his power and control over her in other ways like loading her up with so much work it escalated her blood pressure to the point of cardiac distress.
"When you're the head of the legal department, you're supposed to set the tone for what is ethical, what is responsible and what is lawful," Jaffe said. "When you don't, when you flagrantly choose not to, that sends a message."
The Associated Press contributed to this report.