'Fifty Shades of Grey's' Victor Rasuk talks nudity, calls film 'an authentic love story'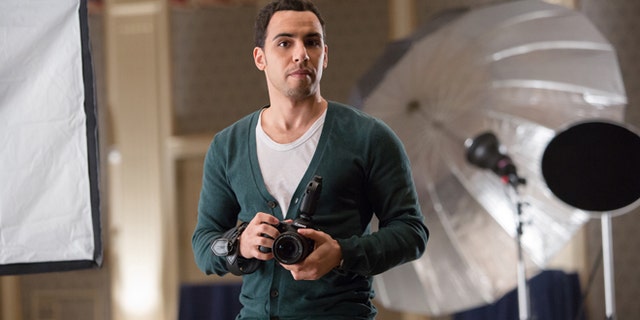 When Victor Rasuk got the part of Jose in "Fifty Shades of Grey," he was of course thrilled because he knew it would be one of the most anticipated films of the year.
But because he had never read the books by E.L. James at the time, this Dominican-American up-and-coming actor didn't know if he would have any nude scenes — and that worried him.
"After the excitement I had to ask, 'Am I going to get naked?'" he told Fox News Latino.
"I called people in my family who had read the book and told them about the part," he said, adding that he has since read the book.
It was something he was happy about — it's not that he would have rejected the part but he admitted he wouldn't have been as enthusiastic for his family to see him in his birthday suit. Now, he can't wait for his family to see it.
"What they did with the film – everyone went in there and we were gung-ho about sticking to the book," the 31-year-old Harlem native said. "It keeps to the story and the sex, which is there, is tasteful… It isn't not too much in your face."
Rasuk, who got his big break with 2002's "Raising Victor Vargas," called his new film an "authentic love story" where people risk everything for love. He could only praise the work of his fellow co-stars Jaimie Dornan and Dakota Johnson, who play leads Christian Grey and Anastasia Steele, along with director Sam Taylor-Johnson.
"I didn't know what to expect," he said. "Sam was the best director I've worked with because she was focused on the characters, focused on the journey and didn't make it about the sex. She was the best captain on this film."
As for his character, Jose, who has a crush on his friend Anastasia, Rasuk said he could totally relate with the storyline because everyone has "that first crush."
"What was kind of hard was showing that vulnerability that was already on the page," he said. "I am always attracted to coming-of-age films and 'Fifty Shades' is that."
Along with "Fifty Shades of Grey," Rasuk is currently also playing a detective on the hit CBS show "Stalker" alongside Dylan McDermott.
"It's very difficult to play that every day," he said of his character Ben Caldwell, "But what we want to show is how to not be victims, how to protect yourselves."
Like us on Facebook
Follow us on Twitter & Instagram