Family, Friends Remember Natasha Richardson at Private Wake in New York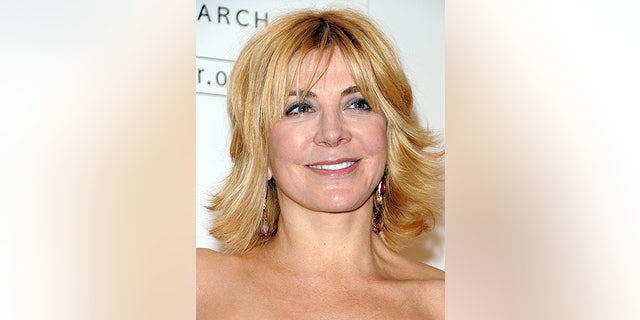 NEWYou can now listen to Fox News articles!
Liam Neeson looked distraught Friday as he greeted grieving family members and friends who attended a private viewing for his wife, actress Natasha Richardson, who died after falling on a ski slope.
Neeson and sons — Micheal, 13, and Daniel, 12 — attended the Upper East Side's American Irish Historical Society, along with Richardson's mother, Vanessa Redgrave, and sister, Joely Richardson.
PHOTOS: Natasha Richardson and Liam Neeson were inseparable for 16 years.
RELATED: Family "shocked and devastated" by death of Natasha Richardson
Also attending were director Mike Nichols, TV host Diane Sawyer, actors Matthew Modine, Ralph Fiennes, Uma Thurman and Mathilde Krim of the American Foundation of AIDS Research — amfAR, the charity for which Richardson served on the board of trustees since 2006.
"She looked incredibly beautiful," Krim said, adding that everyone appeared in a state of shock and Neeson appeared distraught as he received everybody.
RELATED: Thoughts and prayers from Richardson's friends.
Earlier Friday, friends continued to expressed their shock and grief over her death.
"Natasha was a very close friend of our family, so it's been a very, very sad few days and I think it will stay that way for a good while," Matthew Broderick said. "It's hard to say."
Actor Jonathan Cake said: "I had dinner with her Saturday night. Just the two of us. Saturday night, last Saturday. She left to ski the next day."
PHOTOS: Highlights from Natasha Richardson's quirky career
PHOTOS: More photos of Natasha Richardson
The private viewing followed Thursday night's tribute when Broadway theaters dimmed their lights to mark her death. Theaters in London's West End dimmed their lights Friday.
The two-minute mark of respect started just before 7 p.m. Because London plays don't start at the same time, the tribute was staggered over an hour across theaters.
Richardson, 45, died Wednesday at Lenox Hill Hospital after falling at the Mont Tremblant resort in Quebec on Monday. The New York City medical examiner's office ruled her death an accident on Thursday.
Richardson suffered from an epidural hematoma, which causes bleeding between the skull and the brain's covering, said Ellen Borakove, a spokeswoman for the New York City medical examiner's office.
RELATED: Could a helmet have saved Richardson?
RELATED: When do you turn off life support?
Doctors said Richardson might have survived had she received immediate treatment. However, nearly four hours elapsed between her lethal fall and her admission to a hospital.
The lack of medical helicopters in the province of Quebec may have played a role in Richardson's death, Montreal's top head trauma doctor said Friday.
Tarek Razek, director of trauma services for the McGill University Health Centre, which represents six of Montreal's hospitals said: "It's impossible for me to comment specifically about her case, but what I could say is... driving to Mont Tremblant from the city (Montreal) is a two-and-a-half-hour trip, and the closest trauma centre is in the city. Our system isn't set up for traumas and doesn't match what's available in other Canadian cities, let alone in the States... and many other developed countries."
RELATED: Richardson may have suffered from "talk and die syndrome."
Being driven by ambulance to two separate hospitals rather than airlifted by helicopter directly to a trauma centre could have cost Richardson crucial moments, he said. "A helicopter is obviously the fastest way to get from Point A to Point B," he said. Centre Hospitalier Laurentien, the first treatment centre Richardson was brought to, does not specialize in head traumas, so her speedy transfer to Sacre Coeur Hospital in Montreal was critical, said Razek.
Mont Tremblant resort officials have said only that she fell on a beginner's trail and later reported not feeling well. Patients with a blow to the head often feel fine immediately after being hurt because symptoms from the bleeding may take time to emerge.
"It's one of the classic presentations of head injuries, 'talking and dying,' where they may lose consciousness for a minute, but then feel fine," said Razek. The blunt force trauma Richardson sustained is usually treatable if attended to quickly, said Razek, explaining that the ongoing internal bleeding is what can cause a fatality.
Razek said immediate treatment might have helped Richardson but added: "There are so many variables it's hard to speculate what might have been done differently."
"This is a very treatable condition if you're aware of what the problem is and the patient is quickly transferred to a hospital," said Dr. Keith Siller of New York University Langone Medical Center. "But there is very little time to correct this."
Yves Coderre, director of operations at the emergency services company that sent paramedics to the Mont Tremblant resort, said Friday the first call on the day of the accident came at 12:43 and their vehicle arrived at the ski hill at 1 p.m.
"The patrollers told us she said to them, 'No, I don't need it,' so we returned," said Coderre. "We got another call at 2:49. The guys arrived at 3:09 at her hotel."
The medics team spoke to Richardson. "We considered it an emergency at that time," said Coderre, who was not in the ambulance but has seen records of the incident. "She needed rapid treatment and risked deteriorating."
Descended from one of Britain's greatest acting dynasties, including her mother, Vanessa Redgrave, Richardson was known for her work in such plays as "Cabaret" (for which she won a Tony) and "Anna Christie" and in the films "Patty Hearst" and "The Handmaid's Tale."
Praise also came from both tabloid celebrities such as "The Parent Trap" co-star Lindsay Lohan and theater artists like Sam Mendes, who directed the 1998 revival of "Cabaret."
A spokesman for the family, Los Angeles-based Alan Nierob, said instead of flowers, the family asked that donations be made to the amfAR foundation for AIDS research. Richardson, whose father died of complications from the disease in 1991, was a longtime supporter of the charity and had served on its board of trustees since 2006.
Richardson gave several memorable stage performances, more than living up to some of the theater's most famous roles: Sally Bowles of "Cabaret," Blanche DuBois of "A Streetcar Named Desire" and the title character of Eugene O'Neill's "Anna Christie," a 1993 revival in which she co-starred with future husband Neeson.
Her final feature film, "Wild Child," has been released internationally but has not been released in the United States, and Universal Pictures said one had not been scheduled.
The death of Richardson, who was not wearing a helmet, greatly heightened the debate over skiing safety. In Quebec, officials are considering making helmets mandatory on ski hills.