EXCLUSIVE: Nicole Kidman Opens Up About Age, Motherhood & Her Faith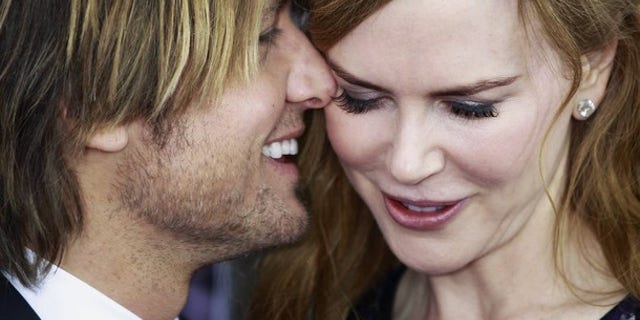 Ten years ago, Nicole Kidman was enduring a shocking divorce from actor Tom Cruise, amid a swirl of rumors she was struggling with infertility issues after she revealed that she had she suffered a miscarriage early in the marriage. So it's understandable that the now 43-year-old actress still can't believe how picture perfect her life has turned out with second husband Keith Urban and their 2-year-old daughter, Sunday Rose.
"I'm in a state of absolute wonder, having all this in my life, I never thought this was going to be me in my forties. A new baby. I just love the energy of young children in the house, it is just lovely. It puts me in a state of humility and compassion," Kidman told Pop Tarts while promoting her new drama "Rabbit Hole," which she both starred in and produced. "I just want to have my husband, my baby and Bella and Conner. For me, they're my favorite people in the world."
In the film, Kidman plays the role of Becca Corbett, a woman devastated by the tragic loss of her four-year-old son and battling to keep her marriage to Howie (Aaron Eckhart) afloat. And in real life , it's no surprise she and Urban are pretty protective of their little one.
"We have different roles; fathers and mothers have very different roles in a child's life. Ultimately Keith is very protective of us as a family," she said. "But I call her (Sunday Rose) my little cub. She reminds me of a little cub and she just loves it. She looks at me and says 'mom am I your little cub?'"
But unlike Kidman's character Becca, who struggles to believe in God given the heart wrenching circumstances, the Oscar winning actress's own faith is unwavering.
"I have a very strong belief and a strong faith, but I can understand Becca's attitude and where she comes from – I get it," Kidman explained.
On the flipside, Eckhart is a little unsure when it comes to his own personal belief system.
"I have had my journey, and journeys are winding. Sometimes I've been very spiritual and religious and other times I am not," he admitted. "I continue on the journey but I do feel like it is important for people to have touchstones and believe in something. Even if we believe in nothing, that's still a belief. At least you know that and you can go from there. People are continuing to re-evaluate the purpose of life."
And if there was just one person Eckhart could connect with down the "Rabbit Hole," he knows exactly who that would be.
"I have many questions for God. Why are there mosquitoes? Why do sharks bite? I have those questions and a lot of others," he added. "I would like to go straight to the source."