EXCLUSIVE: Michaele Salahi Says She Has Multiple Sclerosis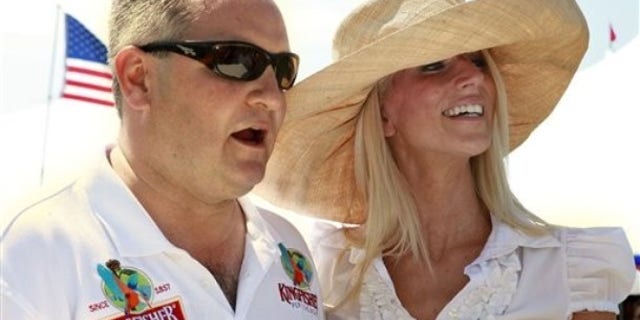 NEWYou can now listen to Fox News articles!
"Real Housewives of Washington D.C." star Michaele Salahi revealed exclusively on "Fox & Friends" Wednesday morning the reason behind her thin and sometimes frail appearance.
Salahi told the morning show that she has been fighting Multiple Sclerosis for 17 years.
The reality star, best known for crashing a White House party with her husband Tareq in 2009, said that speculation she was anorexic was "hurtful."
Salahi made the emotional confession during an appearance on the Fox News morning show with Diane Diamond, the author of "Cirque Du Salahi: Be Careful Who You Trust." In a teary-eyed statement, Salahi said, "I'm not an anorexic and I've never had an eating disorder, but one thing I have kept a secret is for 17 years," she began before trailing off.
Diamond then continued for Salahi while she composed herself, saying, "For 17 years, Michaele has suffered from Multiple Sclerosis."
Multiple Sclerosis (MS) is an inflammatory disease that causes brain and spinal cord damage, leading to physical and cognitive disabilities.
"When I watch 'The Real Housewives of D.C.' and I see this story line of them picking on her ,frankly, there's always gotta be someone in those casts that they pick on and it happens to be Michaele," Diamond said. "[They say] 'Oh, she's anorexic, we have to have an intervention.' It keeps the story line flowing, but unfortunately, it's not true."
"This is the first time I've said it publicly ... It's something I kept personal, "Salahi later told Gretchen Carlson. "I think a lot of people do with chronic illnesses or any type of disease, whether it's heart [disease] or whatever you deal with, you know, breast cancer, so for me, I kept it personal because I never wanted to be judged, never wanted to have pity, and I certainly wanted to hold on to my job."
Salahi said she hoped to use her infamy from the White House incident, coupled with her "Housewives" fame, would help her to do "something good to help someone else."
Tareq Salahi added that he was proud of his wife for not keeping her "head in the sand," and instead was staying positive and living her life as an example that one can "have a great life," in spite of the disease.
A spokesperson from the National MS Society told FoxNews.com that "weight loss is not a typical symptom of MS. However there are other factors that do influence appetite, like medication, fatigue and difficulty swallowing can affect weight loss, but it is not a typical symptom. Typical symptoms are numbness, tingling, pain and difficulty speaking."
According to the MS Society, while MS is a very "individualized disease" wherein "one treatment does not fit all," obesity is more of a problem than weight loss.
"You see people with MS who are obese," the spokesperson said. "That is a big problem for people with MS, struggling to keep weight down."
"If [Salahi] says she does have difficulty with appetite, we can't say she doesn't, but she needs to see a doctor," the spokesperson added.
Salahi has also attempted to dispel rumors of an eating disorder by posing in a bikini for In Touch magazine, where she revealed her diet.
"I start the day with a hot chocolate and cereal — I love Lucky Charms or Kashi GoLean — then some fruit," she said. "I don't really eat a lot in the middle of the day. I have an early dinner, which is always a salad, with plain chicken, grilled or broiled."
Salahi added that she is interested in having plastic surgery to enhance her appearance.
"I would love to do a whole lot of Botox and maybe get collagen, too," she said. "I also think it would be great to have boobs. I'm a B [cup], so I'd get a C. I'm all for anything you can do to make yourself look and feel better."