EXCLUSIVE: John Lennon Had His Childhood Friends Dress Up as Priests in School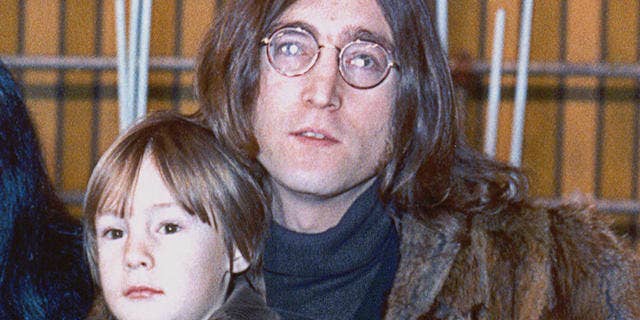 John Lennon would have turned 70 this Saturday.
With a new movie about the assassinated Beatle's childhood, "Nowhere Man," premiering this weekend, Pop Tarts talked to one of his boyhood friends, Len Garry, a member of his first band, The Quarryman, which later evolved into The Beatles.
Garry remembered Lennon as a kid who loved to tweak authority. (Go figure!)
"When we were in school, we had a religion teacher, a very serious guy. John said to Pete (Shotten, friend and member of the first band) 'This teacher is not going to be satisfied, unless we're all priests,'" Garry told Pop Tarts. "So they went back to Pete's mother's shop, she ran a grocery shop. They found strips of white cardboard, and just before the lesson started next time, they walked around and gave all the boys in the class white cardboard – so when the teacher came in, and started marking the register, he looked up and saw the whole class filled with priests."
Had Lennon lived to his 70th birthday, according to Garry, he would be less-than-impressed with the music making waves on the Billboard charts these days.
"The Beatles are arguably the best band in history, back then they actually made good music that told a story," he said. Today, you get one line that repeats over and over and over and over."
The new Lennon biopic "Nowhere Boy," directed by Sam Taylor-Wood, focuses on Lennon as a teen growing up in Liverpool, England in 1955.
The intelligent, yet deeply troubled 15-year-old boy, was raised under the thumb of his buttoned-up Aunt Mimi. Then he discovered his free-spirited mom, who gave him away for complex personal reasons when he was just a toddler, was living just blocks away. While forming a relationship with his estranged mother, young Lennon develops a fascination with Elvis Presley and the American import of rock n' roll, and learns to play guitar after meeting Paul McCartney.
Lennon's widow, Yoko Ono gave her blessing for the film's use of "Mother" (the song Lennon later wrote bemoaning the loss of his parents) over the end credits.
"Naturally, Yoko wanted to see the film before giving her approval for its use, so she saw it in a private screening room with her son Sean and afterwards was incredibly generous and supportive of the film," Taylor-Wood told Pop Tarts. "She gave us her blessing to use John's song and it really provides great emotional closure after the journey we've traveled through John's teenage years."