EXCLUSIVE: Gene Simmons Predicts 'Major Change' in Midterm Elections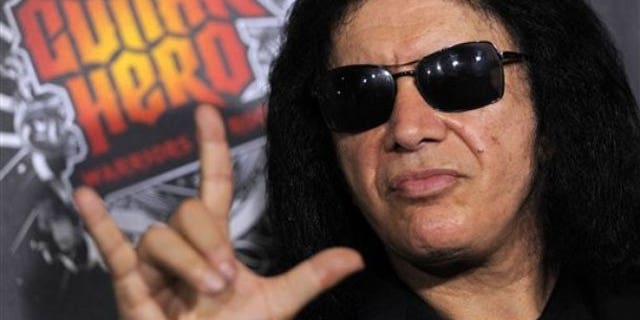 LOS ANGELES – Gene Simmons has never been one to shy away from voicing his political opinions and the KISS frontman tells Pop Tarts he is anticipating some serious power shifts to take place as a result of the midterm elections in November.
"There is going to be major change. The American public is very, very angry. I believed in this administration, and I voted for President Obama, I also voted for President Clinton, and I also voted for President Bush," Simmons said this week at the launch of Activision's "Guitar Hero: Warriors of Rock" in Los Angeles. "I will vote my conscience, and I'll be damned if anybody is going to point a finger at me and say 'vote along party lines.' America is like me – sometimes they vote this way, sometimes they vote that way."
But when it comes to certain issues, Simmons isn't afraid to admit his allegiances aren't exactly in keeping with Hollywood's stereotypes.
"I am fiscally and in terms of foreign policy, very conservative. Like everybody, we want to pay less taxes not more," he continued.
And on that note, Simmons is taking the Tea Party movement very seriously.
"You have to take any movement that expresses the will of the public seriously. You can't point to any direction and say 'this is nonsense' because the people who are involved in any movement, are doing it because they believe," he explained. "Who am I to say that what they're doing is right or wrong? At the end of the day, no matter what anyone believes in, no matter what side of the aisle you're on, you have the opportunity to vote, and express your feelings."
So what's Simmons' message to those in power? Zip the lip and just do the work.
"I resent the fact that the Democrats are making fun of the Tea Party, and likewise, I don't like the Republicans making fun of Democrats. Basically, shut up; don't tell me what's wrong with the other party. Tell me what you're going to do for me, then I'll let you know who I'm going to vote for," he told us. "This is why America is like me – sometimes Republicans get in, sometimes Democrats get in. As soon as one messes up, we throw them out. Watch what's going to happen this election."
And in a different form of competition, Simmons admitted that he has been approached about being a contestant for an upcoming season of the ABC hit "Dancing With the Stars", and that he is entertaining the possibility.
Stay tuned.