EXCLUSIVE: 'Fuming' Lindsay Lohan Wants Apology From Courts, Source Says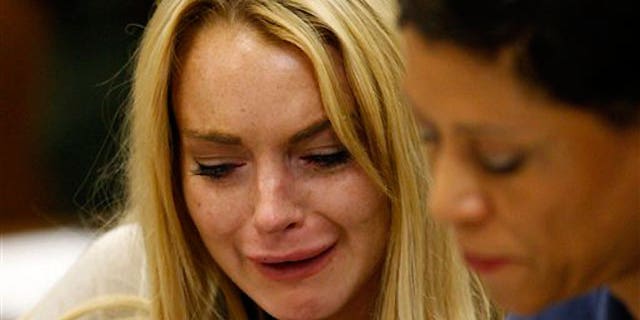 According to Lindsay Lohan's latest medical report from UCLA, the actress was not addicted to cocaine as once suspected.
Instead, it is believed she was misdiagnosed as having Attention Deficit Disorder and given the prescription drug Adderall, which may be to blame for triggering her often bizarre behavior.
Now Lohan apparently wants some form of apology or compensation from the courts.
"Lindsay is fuming – she is really upset that the courts put her through all this," a source close to the 24-year-old told Pop Tarts, referring to Lohan's incarceration for violating terms of her probation for a 2007 DUI, and subsequent court-ordered rehab.
The insider said Lohan's camp was "exploring its options." But just in case you're thinking about it, Linds, legal action against the courts is probably out of the question.
"No judge or prosecutor could be sued under these circumstances, they have absolute immunity," explained Santa Monica-based Criminal Defense Attorney, Steve Cron. "Judge Revel formulated her opinion of Lindsay based on the information she had at the time from another program. The judge could still be dissatisfied with the report from UCLA and seek independent opinions or insist Lindsay be enrolled in other programs."
Lohan has admitted to trying cocaine in previous interviews, and cocaine was found on her person when she was arrested for a DUI in 2007.
Pop Tarts is told that the "Mean Girls" star is more concerned with her public image, and believes the courts should issue an apology.
But now that Revel voluntarily removed herself from the case, after lawyers complained that she had contacted "participants and experts" involved without notifying the lawyers in advance, it seems Lohan has a better chance of making a smooth transition back into her normal life.
"It's a good thing for Lindsay, the new judge won't have any stake in going above and beyond in trying to prove that what they said originally was right," added Cron.
So given that she now may be considered "insurable" to work on films thanks to her rehab's medical conclusions, we're told Lohan has been entertaining a string of movie offers since regaining access to her BlackBerry last week and is "excited" to get back to work and life. However, it remains unclear when she will be released from the facility.