Ex 'Idol' Star Kristy Lee Cook Scores a Hunting Reality Show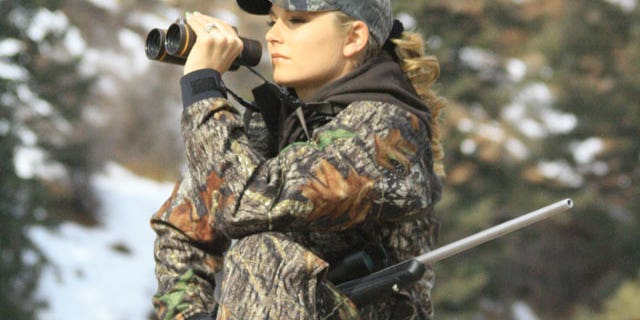 NEWYou can now listen to Fox News articles!
"American Idol" introduced Kristy Lee Cook to America. Now the country singer is hoping that hunting will make her an American household name.
This weekend, Cook debuted her new reality series, "Goin' Country" on cable network Versus, where cameras chronicle the singer's struggle to get a record deal while also following her on a series of hunting expeditions across the country.
It's the classic American story of a girl, her guitar, and her gun.
She's only been hunting for six years, but Cook already has an eagle eye. Just last month she took down a black bear that had been getting into mischief in her horse barn in Eagle Point, Oregon.
"That bear had been causing trouble for five nights, eating grain and spooking my horses. He was making a mess of the whole barn," Cook said. "One night I was walking in the house and I saw something standing in the door of my barn and I got him in one shot."
Cook's weapon of choice is as Browning 270 Winchester short magazine rifle.
"It's my trusty rifle and I use it for as much hunting and animals as I can take down," Cook told Fox411. "It's one shot, one kill."
It was the country singer's decision to wear a Browning hat while competing on "American Idol" that inspired the firearms company to sign on as a sponsor of the hunting show.
"I just wore the hat because I liked it," Cook says. "But Browning saw it and they were so excited I was wearing their logo they saw it as an opportunity."
Each one of Cook's eight-episode series on the sporting network Versus will feature a different kind of hunt; Wisconsin for Cook's first black buck hunt, Kansas for a pheasant hunt and Missouri for a difficult turkey hunt. Along the way Cook will be joined by family, friends and celebrity guests, including former "Idol" contestant Blake Lewis, grammy-nominated artist Jake Owen and country music star Aaron Tippin.
"I'm hoping that people will see the hunts as a chance to hang with family and friends and share an experience. It's so much fun in the outdoors and when you harvest something for the meat it really means much more than just going out to the grocery store and buying it," Cook, a big organic food nut, told Fox 411.
Since hearing about her show, plenty of fans have confronted Cook about their opposition to the killing of animals for sport. She greets their attacks with the pragmatism of a hunter.
"I never used to like killing animals until I got out and experienced it. It's the food chain. Animals are here for us to eat. In my family we grew up without a lot of money so I take all this meat home and anything that's left we give to homeless shelters or orphanages so all the meat is going somewhere and I get to feed all these people," Cook says.
"Plus, now I know if anything were to happen in this world I know I would be ok because I can shoot my own animals," she laughed to Fox 411.
Opponents of hunting may still be interested to watch Cook try to secure a country record deal. Following her run on the seventh season of "Idol," where Cook was the seventh finalist, she signed with Arista Nashville and 19 Recordings and in 2008 released her first album, "Why Wait." Later that year Cook and the label parted ways.
"I think it looks good for getting another deal," Cook says. "It's a work in progress and I am working really hard on it. I have a great feeling about this and this show is giving me the best of both worlds. I love my music. I'm fighting for my music career and we're working on that and hunting season is coming up so I'm taking a lot of people out hunting. Both things take the same instincts."