Ex-'Black-ish' writer, Super Bowl champion arrested on insider trading charges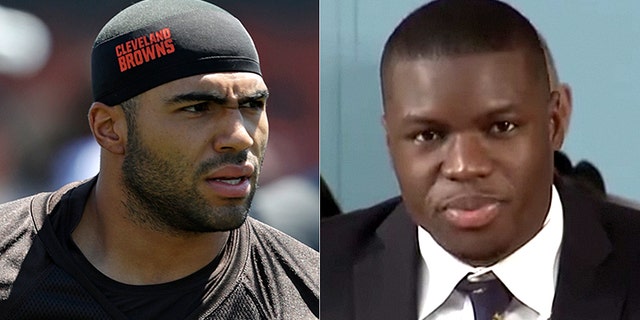 Former "Black-ish" writer Damilare Sonoiki and Cleveland Browns linebacker Mychal Kendricks were charged with insider trading by federal officials Wednesday.
Sonoiki, a former investment banker, allegedly passed along insider information to Kendricks from 2013 to 2015, U.S. Attorney William McSwain said.
Kendricks allegedly gave $10,000 in cash, Philadelphia Eagles tickets and made arrangements for Sonoiki to meet recording artist Teyana Taylor in exchange for the information, McSwain said.
McSwain said they could face "substantial prison time."
Kendricks apologized in a statement released by his attorneys, saying he invested money with a friend he thought he could trust because of his banking background.
"I would like to apologize. Four years ago, I participated in insider trading, and I deeply regret it. I invested money with a former friend of mine who I thought I could trust and who I greatly admired. His background as a Harvard graduate and an employee of Goldman Sachs gave me a false sense of confidence," Kendricks said in the statement.
"To this point, I had worked my tail off since I was 5 years old to become a football player. I was drawn in by the allure of being more than just a football player. While I didn't fully understand all of the details of the illegal trades, I knew it was wrong, and I wholeheartedly regret my actions."
The 27-year-old said he's been cooperating with authorities and will continue to do so.
The Browns said in a statement they were aware of the situation.
"We are aware of the situation and in communication with the league office as we gather information," the team said. "Mychal will not make the trip to Detroit. We will comment further at the appropriate time."
Sonoiki is a Harvard-educated former Goldman Sachs analyst, the Philadelphia Inquirer reported, citing public records. The charges against him and Kendricks involve four stock trades based on insider information, officials said. He worked on the "Black-ish" during the 2015-2016 season but is no longer an employee of ABC, as per a source.
Kendricks helped the Eagles win their first Super Bowl last year.