Eva Longoria Removes Tony Parker 'Nine' Tattoo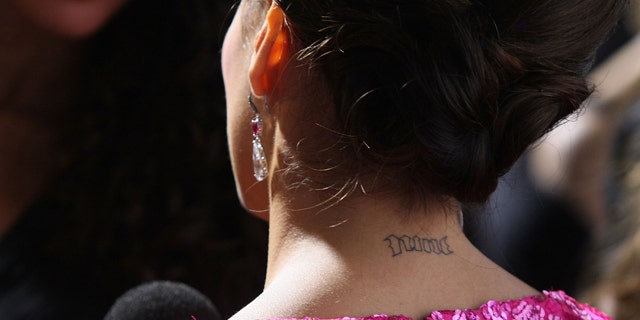 Eva Longoria has gotten rid of the last memory of Tony Parker.
The "Desperate Housewives" actress has sought the help of a specialist to remove her "Nine" tattoo on her neck, Entertainment Gossip site TV Notas reports.
Tony Parker plays for the San Antonio Spurs. He is number nine for the team. Longoria got the tattoo in tribute to her ex husband's jersey number.
A year ago, Longoria filed for divorce from Parker after she caught the basketball player having a sexting fling with the wife of fellow Spur player Brent Barry.
Barry and his wife also filed for divorce a month after Longoria.
Parker said he did have a sexting relationship with Barry's wife, Erin, but said nothing physical ever happened.
Celebs Who Love Ink
TV Notas said that Longoria's new man, Penélope Cruz's kid brother Eduardo, went with her to get the tattoo removed. The publication adds that the two visited "Dr. Tattoff," known as the go-to person for removal of tattoos among celebrities.
The two have been an item since February of last year.
Eduardo Cruz is a fan of tattoos himself and sports one that says "EVA" on his left arm. Longoria opened up about her divorce to Allure magazine March of last year.
In the publication, Longoria states how talking about the breakup from the San Antonio Spurs player makes her "want to cry" but she's trying to make the transition "as gracefully as possible" and "without any drama."
She added that now she has time to "find new patterns" in life because she no longer spends her spare time watching Parker play.
Celebrities Who Had Affairs With Employees
Longoria also credits the women in her life with getting her through difficult times. She says she "collects people" in her life, particularly "amazing, smart, interesting women."
You can reach Alexandra Gratereaux at: Alexandra.Gratereaux@foxnewslatino.com or via Twitter: @GalexLatino
Follow us on twitter.com/foxnewslatino
Like us at facebook.com/foxnewslatino