Eva Longoria Produces, Lends Voice To New Hulu TV Animated Show 'Mother Up'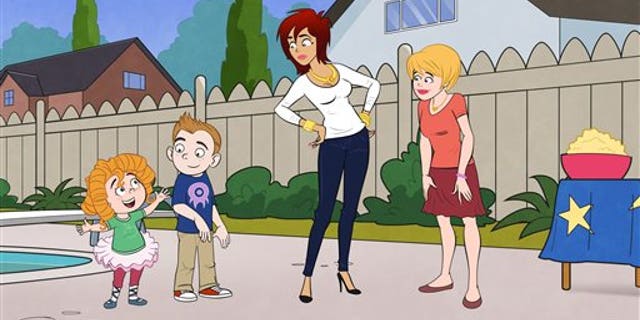 Superstar actress Eva Longoria takes up a new challenge in her new TV role as an animated woman stumbling through motherhood.
"I'm a fan of animation and I watch 'Family Guy' and I watch 'American Dad!' and you always see these really flawed fathers and the really perfect mom who is trying to hold the family together because the dads, they're just idiots," said Longoria.
She voices the character of Rudi Wilson in the 13-episode comedy "Mother Up!" debuting Wednesday on Hulu and Hulu Plus. Longoria also is an executive producer of the series in which Rudi, a former Manhattan music executive, resettles in suburbia with her two children.
She's got street smarts but is fumbling in her new environment: When Rudi tries to compete in the can-you-top-this arena of kids' birthday parties, disaster results.
Executive producer Michael Shipley (whose writing credits include "Family Guy" and "American Dad!") was inspired by the "venting blogosphere" of mommy blogs that chronicle the perils of childrearing, Longoria said. Marnie Nir and Katie Torpey are credited with original material.
Shipley's approach is "a really fun, impressive way into poking fun at the different styles of parenting that moms have," said the former "Desperate Housewives" star who is a producer on "Devious Maids."
The cast includes Jesse Camacho and Rebecca Husain as Rudi's children Dick and Apple; Gabrielle Miller and Cle Bennett as Rudi's pals; and Helen Taylor as perfect mom Jenny.
A character like Rudi is overdue, Longoria said.
"People think that sometimes women aren't funny. And in animation, specifically, everything you see is male-oriented. It is a large male audience watching animation," she said. "But I don't think there's been anything women can watch that they can relate to and laugh at."
Asked to compare Rudi and Gabrielle Solis, her "Desperate Housewives" character who had her own parenting issues, Longoria replies: "I think Rudi is Gaby on steroids. There's things we can do in a more comedic way in animation that we could never do in live action."
Based on reporting by The Associated Press.
Follow us on twitter.com/foxnewslatino
Like us at facebook.com/foxnewslatino