ESPN lays off about 100 employees, including Danny Kanell, Ed Werder
It's a dark day at ESPN.
The sports broadcasting network sent a memo to employees early Wednesday, informing them that a series of previously announced layoffs would take place today. Familiar faces like Ed Werder, Danny Kanell, Len Elmore, Jayson Stark, Trent Dilfer and Brett McMurphy are among those who have been let go.
The total number of employees cut will be around 100, Fox News has learned.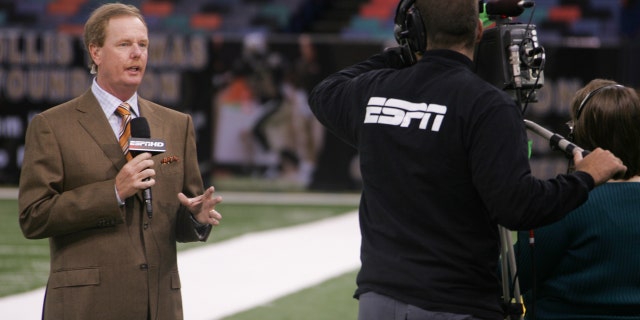 The memo, from ESPN President John Skipper, noted that the network's new talent lineup will be announced soon.
"Dynamic change demands an increased focus on versatility and value, and as a result, we have been engaged in the challenging process of determining the talent—anchors, analysts, reporters, writers and those who handle play-by-play—necessary to meet those demands," Skipper wrote to employees. "We will implement changes in our talent lineup this week. A limited number of other positions will also be affected and a handful of new jobs will be posted to fill various needs.
"These decisions impact talented people who have done great work for our company. I would like to thank all of them for their efforts and their many contributions to ESPN."
A source with knowlege of the situation told Fox News that despite buzz that the planned number of layoffs has grown in recent weeks, the gameplan was always to cut around 100 people.
Gee, I feel like I am now part of an exclusive club. #ESPNLayoff. For 21 yrs. I tried to represent the best in college hoops. Adios Bristol!

— Len Elmore (@LenElmore) April 26, 2017
After 17 years reporting on #NFL, I've been informed that I'm being laid off by ESPN effective immediately. I have no plans to retire

— Ed Werder (@Edwerderespn) April 26, 2017
Poured my heart and soul into ESPN for last 8 years. Moved my wife and 3 kids to CT to go "all in" 5 years ago. Bummed it ended in 3 minutes

— Danny Kanell (@dannykanell) April 26, 2017
Laid off by ESPN today.Although sad cause I loved my job, mostly filled w/gratitude & appreciation for the 9 years #GreatFriendsAndTeammates

— Trent Dilfer (@TDESPN) April 26, 2017
After 14 wonderful years my time at espn is over. From Cold Pizza to First Take to SC I made more friends than I can name. Forever grateful! pic.twitter.com/WNkUGuXeVl

— Jay Crawford (@jaycrawfordespn) April 26, 2017
After 5 great years, I've been laid off by ESPN. It was a tremendous opportunity & I enjoyed working w/a lot of really, really good people

— Brett McMurphy (@McMurphyESPN) April 26, 2017
For 17 yrs I've had a dream job covering baseball for ESPN. Today is my last day. Thanks to all the great people at ESPN, MLB & all of you!

— Jayson Stark (@jaysonst) April 26, 2017
Add me to the list. Just got the 'call.' I've been informed my contract will not be renewed at ESPN.

— Dana O'Neil (@ESPNDanaOneil) April 26, 2017
I've been informed that I'm no longer employed at ESPN. Greatly enjoyed covering the B1G, and will immediately try to find a new challenge!

— Austin Ward (@AWardESPN) April 26, 2017
I had a great 6+ years at ESPN, but it's over. I will badly miss all the talented folks there, many of whom I call dear friends. #Onward

— Ashley Fox (@AshleyFoxESPN) April 26, 2017
After 13 years of sticks and pucks can share that as of today my tenure at ESPN is at a close. I look forward to the next adventure.

— Scott Burnside (@OvertimeScottB) April 26, 2017
I was treated great by #ESPN during my 3 years. Time to find out what's next. Will miss all the great people I worked with! #ToTheNextStep pic.twitter.com/ZIBHFvFZeJ

— Brendan Fitzgerald (@BrendanFitzESPN) April 26, 2017
Well, I'm a free agent. I learned a lot in eight years with ESPN and benefitted from being around a lot of smart people

— Mark Saxon (@markasaxon) April 26, 2017
Gee, I feel like I am now part of an exclusive club. #ESPNLayoff. For 21 yrs. I tried to represent the best in college hoops. Adios Bristol!

— Len Elmore (@LenElmore) April 26, 2017
I feel blessed & privileged to have worked @ESPN and most importantly work w/ so many great people.Thank you. I look forward to what's next

— Jim Bowden (@JimBowdenMLB) April 26, 2017
ESPN also outlined the network's new strategy in a post on its media website published Wednesday. The company is placing an increased focused on its ESPN App with a "multi-screen approach around big events."
"On the horizon is more live news video and enhanced video and audio streaming," the release stated.
ESPN also plans to bolster its online presence.
"Our goal continues to be to maximize our unparalleled scale in every medium with storytelling that stands out and makes a difference. We are well-equipped to thrive going forward by embracing these themes."