Erykah Badu says she 'saw good' in Hitler, 'loves' Bill Cosby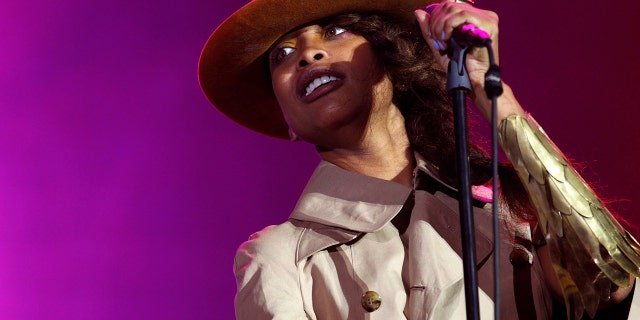 Singer-songwriter Erykah Badu said she "loves" Bill Cosby and "saw something good" in Adolf Hitler in a shocking new interview.
On Wednesday, Vulture released an interview with Badu, in which she makes the controversial statements.
"I'm a humanist. I see good in everybody. I saw something good in Hitler," Badu told the publication.
When the 46-year-old singer was asked to further elaborate on her comments about the Nazi leader whose actions lead to the murder of six million Jews and additional killings of other minorities.
"Hitler was a wonderful painter," she stated. "Poor thing. He had a terrible childhood. That means that when I'm looking at my daughter, Mars, I could imagine her being in someone else's home and being treated so poorly, and what that could spawn. I see things like that. I guess it's just the Pisces in me."
When the interviewer said that it was "disheartening" to hear Badu's thoughts about Hilter, the singer clarified that she is "not an anti-Semitic person," but during the interview she failed to understand why she couldn't say something good about Hitler.
"You asked me a question. I could've chosen not to answer," Badu explained. "I don't walk around thinking about Hitler or Louis Farrakhan. But I understand what you're saying: 'Why would you want to risk fueling hateful thinking?' I have a platform, and I would never want to hurt people. I would never do that. I would never even imagine doing that. I would never even want a group of white men who believe that the Confederate flag is worth saving to feel bad. That's not how I operate."
The conversation later shifted from Hitler to Cosby, who Badu said she "loves" for "what he's done for the world." Cosby has been accused of sexual assault by more than 50 women, many of whom claimed he drugged them or tried to.
"... If he's sick, why would I be angry with him?" the singer said. "The people who got hurt, I feel so bad for them. I want them to feel better, too. But sick people do evil things; hurt people hurt people. I know I could be crucified for saying that because I'm supposed to be on the purple team or the green team."
Cosby is currently facing trial for sexual assault allegations.
The Grammy-winning songstress then went on to defend her comments about the actor.
"People can be bad for certain things. They could be bad around children. They could be bad with power," she said. "Are those people all 'bad'? Could be. Maybe they need to get kicked off the planet. I don't know. Each thing is individual. There aren't rules for how we can or should think about something. We don't have to believe everything we're hearing. At least I don't think we do. I'm glad I don't watch this stuff...Everything. I read the description of an empath and I think I fit the description pretty well. It's about absorbing people's feelings."