Erin Moran's brother goes after Scott Baio?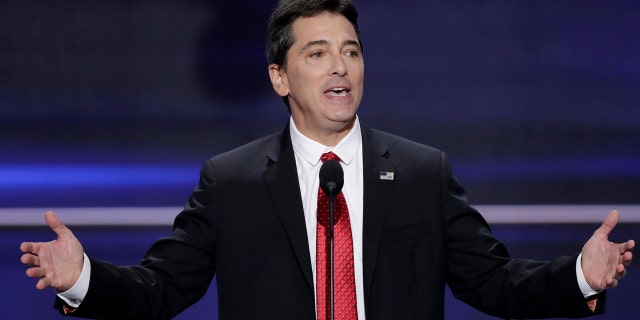 Chachi better watch his back.
Scott Baio came under fire earlier this week for comments he made speculating that his former "Happy Days" co-star Erin Moran died due to substance abuse before her cause of death – complications from stage 4 cancer – was revealed. Now, Twitter and Facebook accounts that reportedly belong to Moran's brother are firing back.
In a statement about Moran's death, Baio called her his "first real girlfriend" and said he was "sad, in disbelief, sick to my stomach and in complete shock" when he learned of her death.
"A special shout out to Scott Baio," Tony Moran reportedly wrote on Facebook. "I already went on Twitter about you. I hope it finds you. You and my lil sis had a very very brief fling… Scott, I'd advise you to get on your knees and pray you never run into me."
ERIN MORAN'S HUSBAND DETAILS HER LAST MOMENTS
The former horror movie actor (Moran had an acting role in 1978's "Halloween") reportedly added, "Well guys. Guess what? I was contacted by Scott Baio's wife. His wife! F--king coward! I've never met her. I do know the scumbag piece of s--t Scott Baio tho. He was a piece of s--t back then and still is. He had his wife contact me! Very apologetic and s--t. Doesn't surprise me. It's too late…"
A rep for Tony Moran could not immediately be reached for comment.
SCOTT BAIO UNDER FIRE FOR COMMENTS ABOUT ERIN MORAN
On Monday, Baio spoke on "The Bernie & Sid Show." During the conversation, Baio reacted to media reports that claimed his co-star died of drug use.
"I feel bad because her whole life she was troubled, could never find what made her happy and content, you know what I mean?" he told the radio hosts. "For me, you do drugs or drink, you're gonna die. And I'm sorry if that's cold, but… God gave you a brain, gave you the will to live and thrive, and you gotta take care of yourself. I'm sorry. You just have to, and I am saddened by what happened.
"And I don't know if it was drugs that killed her," he added quickly. "I read one report that it might have been. And I hope it – you know, I don't know what I hope."
Baio later shared a lengthy Facebook post outlining why he made those comments.
The "Joanie Loves Chachi" star said he was "still upset up" when he conducted the radio interview.
He wrote, "Please stop assuming the [worst] in me. I'm a compassionate person. I'm very heartbroken over her passing…"