Emmy Awards: Roseanne Barr the butt of many jokes
Roseanne Barr was not nominated for any awards but that didn't stop the actress from being a topic of conversation at Monday night's Emmy Awards.
Barr, who was axed from her hit sitcom "Roseanne" in May after a racist tweet, was brought up several times during co-hosts Michael Che and Colin Jost's opening monologue.
Jost and Che mentioned the number of shows that were canceled and then picked up again like "Last Man Standing" and "Brooklyn 99."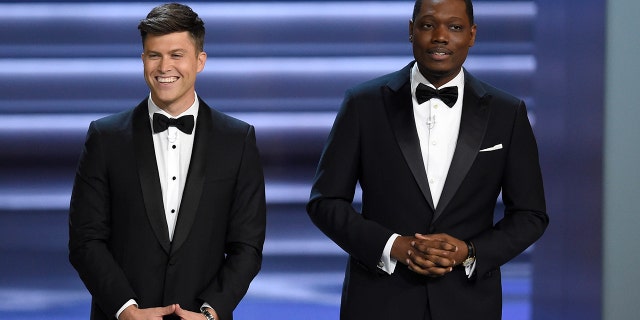 But then Jost joked, "Roseanne was canceled by herself, but picked up by white nationalists."
Che chimed in, "She's had a rough year... I heard Roseanne's actually moving to Israel. How messed up is your life when you have to move to the Middle East just to get peace of mind?"
Barr made headlines after she tweeted in May that former President Barack Obama's aide, Valerie Jarrett, who is African-American and was born in Iran, was as though the "Muslim brotherhood & planet of the apes had a baby." ABC canceled the popular reboot of "Roseanne" shortly after the tweets.
Barr recently revealed that her character will get killed off on the upcoming spinoff of "Roseanne" by overdosing on opioids.
"Oh ya, they killed her," she said. "They have her die of an opioid overdose."