Embarrassment for New York Times as top editor falls for old photo amid weekend of misleading anti-Trump tweets
NEWYou can now listen to Fox News articles!
The New York Times Magazine editor-in-chief Jake Silverstein incorrectly shared Obama-era pictures of children sleeping in enclosed cages to take a swipe at the Trump administration – and that was only one of several Twitter stumbles by anti-Trump public figures over the holiday weekend.
It turned out the photographs were published by The Arizona Republic in 2014 after authorities detained over 1,000 children who crossed the U.S.-Mexico border illegally and placed them in a detention facility.
"All of these photos are disturbing, but the first two are especially awful," Silverstein wrote in the tweet, along with a link headlined, "First glimpse of immigrant children at holding facility."
Silverstein eventually deleted his tweet and blamed being with his family for the embarrassing gaffe.
"Correction: this link, which was going around this morning, is from 2014. Still disturbing, of course, but only indirectly related to current situation," Silverstein tweeted. "My bad (and a good reminder not to RT things while distracted w family on the weekend)."
The New York Times did not immediately respond to a request for comment.
Silverstein was widely criticized for the blunder and his "correction" received over 1,400 responses ranging from followers referring to the Times as "fake news" to followers criticizing the editor for blaming his family.
"This is what happens when you throw away your journalistic standards in favor of political bias," one user responded while another wrote, "We could have done without the excuse."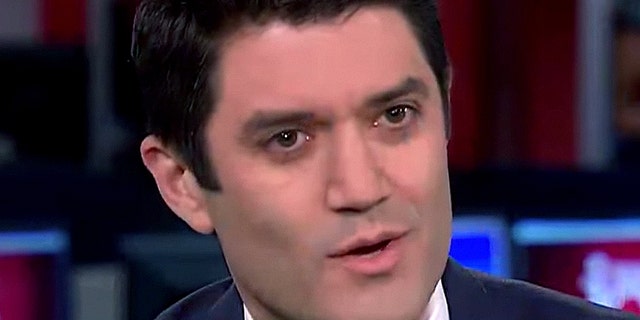 CNN reporter Hadas Gold also shared the Obama-era image, prompting White House counselor Kellyanne Conway to ask a CNN reporter about the situation on Tuesday.
"Your CNN colleague retweeted two migrant children, I suppose, laying in a cage to make the point against this president. It happened under President Obama's watch and then [she] deleted the tweet because it didn't fit the narrative," Conway said when approached by a CNN staffer at the White House before asking, "Do you or do you not care about the migrant children?"
CNN did not immediately respond to a request for comment.
Gold eventually deleted her tweet and wrote, "Deleted previous tweet because gave impression of recent photos (they're from 2014)," but hundreds of responses ripped the CNN reporter for the misleading tweet.
"No you did not 'give the impression.' You flat out said it," one user wrote while another said, "Don't delete it. You could've have said 'Correction: These were children detained under the Obama administration.'"
In an attempt to attack Trump's zero-tolerance policy towards parents and children crossing the border illegally, ex-Obama speechwriter Jon Favreau and activists Linda Sarsour and Shaun King also tweeted Obama-era pictures showing kids in one of the enclosures and criticized the government for neglecting the children. Like Silverstein and Gold, they also initially made it appear the photos were taken recently.
Anti-Trump Twitter was particularly reckless over Memorial Day weekend, as the Obama-era photos of caged children is only one example of fake news being spread. CNN contributor April Ryan was mocked for tweeting a headline without context to a story in The Root that asked if the Trump administration is involved in child sex-trafficking.
"Is the Trump Administration Running a Child-Trafficking Ring or Nah? Follow Me Down the Rabbit Hole," Ryan wrote without explaining to her 337,000 followers that the story's outcome was that "conspiracy" is not true.
One of Ryan's CNN colleagues attempted to defend her by saying the article was "a thought experiment and not meant to be taken literally," but the explanation was met with criticism.
Activist Antonio Arellano helped circulate a story that was published on April 29, 2016 – roughly six months before Trump won on Election Day – detailing special buses used for educational field trips by a Texas detention center. The article features an image of a bus complete with child seats and specifically mentions in the second paragraph that the bus is used to bring youngsters to places "such as the San Antonio Zoo, seeing a movie at the local theater, going to the park, etc."
However, Arellano – who says he works for Houston's ABC affiliate-- tweeted the link with his own caption: "ICE's largest family detention center, Karnes County Residential Center in Texas, run by contractor GEO Group, has a prison bus just for babies."
ABC13 Houston did not immediately respond to a request for comment and clarification on Arellano's status at the network. Arellano deleted his tweet, along with dozens of follow-up re-tweets, shortly after Fox News asked for comment.
Arellano's misleading message was quickly spread across social media, with most people presumably not even clicking on the story to realize it predated the Trump administration. "America, this cannot be who we are," CNN's Ana Navarro wrote when sharingthe article.
Arellano's message was retweeted over 16,000 times and made a favorite by over 12,000 people.
NBC News' Kasie Hunt, TheWrap founder Sharon Waxman, journalists Luke Savage, Mark Joyella, Liliana Soto, actors Alyssa Milano and Matt McGorry, authors Ali Noorani, Julissa Arce Rayaand Emma Kennedy, former Obama staffer Michael Simon and Democratic strategist Zac Petkanas are among the thousands of public figures who shared Arellano's tweet without providing context.
President Trump took to Twitter on Tuesday to combat some of the false information spreading about him on social media.
"Democrats mistakenly tweet 2014 pictures from Obama's term showing children from the Border in steel cages. They thought it was recent pictures in order to make us look bad, but backfires," Trump wrote before adding, "The Fake Mainstream Media has, from the time I announced I was running for President, run the most highly sophisticated & dishonest Disinformation Campaign in the history of politics."
Fox News' Lukas Mikelionis and Robert Gearty contributed to this report.