Eli Manning gushes about infant daughter on 'Late Show' appearance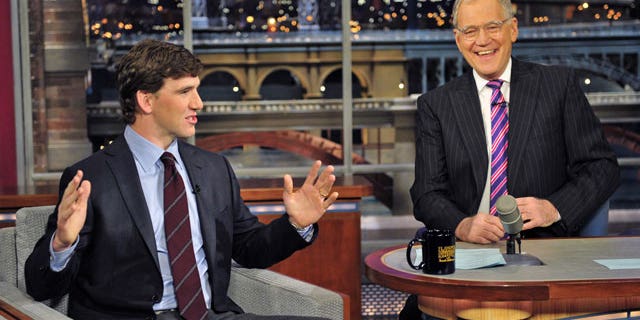 A victorious Eli Manning on Monday night told David Letterman that his baby daughter learned an important lesson from his Super Bowl win -- how to clap.
Manning appeared on the "Late Show with David Letterman" as he wrapped up a three-state victory lap -- from Indiana to a Disney World appearance in Florida to New York for Letterman -- after the Super Bowl win.
Letterman asked him how it felt to hold his 11-month-old, daughter, Ava Frances, on the field.
"She stayed up the whole game, past her bedtime -- and learned how to clap," the proud pigskin papa said.
Manning said he celebrated his Super win with his teammates first, then with his old buddies from high school in New Orleans and at the University of Mississippi.
"You know, the locker room, it's a great scene. You see all your teammates, you get a lot of hugs, see all your coaches, and then you go to the team hotel, have a big party for the team," Manning said.
"[But] I [also] kind of host my own party for family and friends, so it's great.
"I walk in, I see a lot of my college teammates, high-school teammates I played football with ... I swear they're more excited than I am. It's like they won the Super Bowl ... They're fired up."
Before the interview, Letterman told his audience that Manning would be arriving late for the show's taping in Manhattan.
"Just minutes ago, he landed by helicopter on the West Side. He's racing here," Letterman said.
While waiting for his guest, Letterman poked fun at Manning's two-time Super Bowl rival quarterback, the Patriots' Tom Brady.
"How about that Tom Brady?" Letterman said in his monologue. "He was so inconsolable he could barely touch his Bundchen," he joked in a reference to the QB's wife Gisele Bundchen.
When Manning arrived, Letterman asked him if he has a relationship with the Patriots QB.
"Not a whole lot," Manning said. "I don't know if he likes me."
The "Late Show" host also had a bit of fun with Manning's youthful appearance and "aw shucks" manner.
"Eli Manning, what a guy," he said. "I asked him confidentially, 'How old are you, really?' He answered, 'Don't tell anyone: 14.'"
"I started to shave, you know, this past year," Manning said to big laughs.