Edward James Olmos Lends His Name (And Voice) To Directorial Debut, 'Water & Power'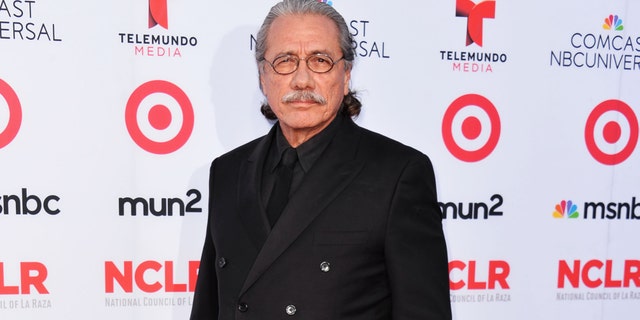 NEWYou can now listen to Fox News articles!
Veteran actor Edward James Olmos has always been a prominent supporter of Latino actors, filmmakers and movies. Now, through his Olmos Productions, he has added his recognizable name to a new project by playwright-turned-director Richard Montoya, who is taking his play, "Water & Power," to the big screen this May.
Olmos has also lent his recognizable voice to its trailer.
"I wanted to help. I have no vested interest. I am just the guy that saw the film and I can bring awareness to it," the 67-year-old actor told Fox News Latino.
"I saw the film and I said, 'Oh my God,'" Olmos added. "It's amazing. It's beautiful. The script itself is just amazing."
Montoya's play tells the story of twin brothers Gilbert and Gabriel, whose father, a laborer for the Department of Water and Power in Los Angeles, tries to teach them how to fulfill their worldly ambitions while keeping faith to their origins.
Gilbert, whose nickname is "Water," becomes a state senator who stakes his integrity on pushing a green-space bill for his old neighborhood. Gabriel, a.k.a. "Power" grows up to be a cop who struggles to reconcile his personal and professional obligations.
The Oscar-nominated actor called the film a "humble" and "modest film" that is very well done and the best directorial debut he has seen "in years." He added that he wanted to get involved in bringing the film to theaters because his name could help fill seats.
Olmos is also working on a new US-Mexican animated film, "El Americano: The Movie," about a young bird in a family-owned circus who finds out that it is failing.
The bird Cuco, voiced by "Modern Family"'s Rico Rodrigo, goes to the U.S. in search of a Captain America-type to help save the circus and eventually discovers that he is its savior.
"The answer was within him," Olmos told Fox News Latino. "It's a simple little story that resonates."
Follow us on twitter.com/foxnewslatino
Like us at facebook.com/foxnewslatino