Easter recipes from Chef Billy Oliva of Delmonico's Restaurant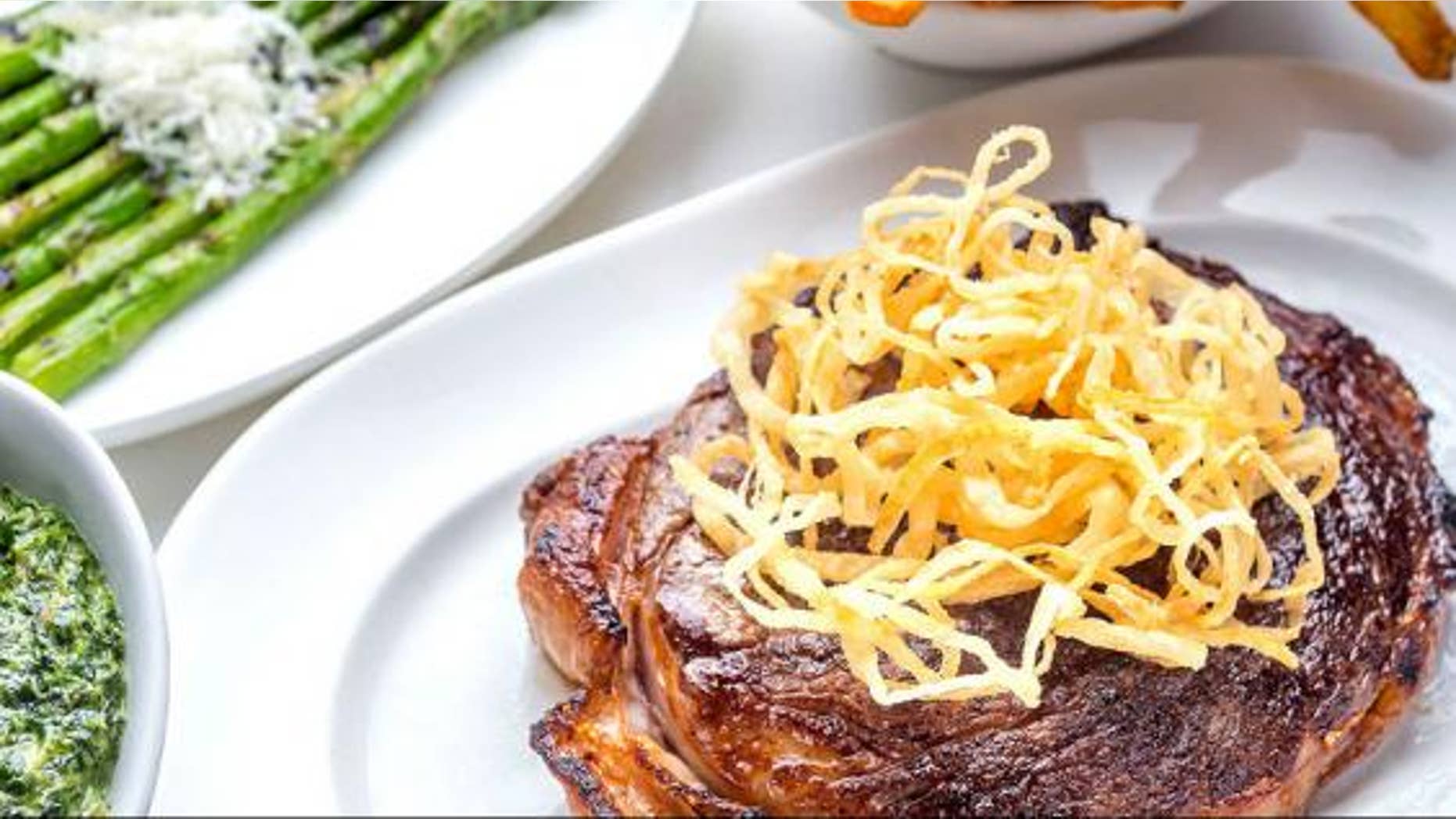 EASTER LAMB
Ingredients:
Rack of lamb, cut into chops
12 oz. plain yogurt
1 c. honey
1/2 c. olive oil
3 gloves garlic, minced
1 bunch mint, chopped
2 tbsp. hot chili paste
Salt & Pepper to taste

Instructions:
Pour all ingredients into a mixing bowl. Mix contents of bowl to create marinade. .Coat the lamb with the marinade. Cover the bowl and refrigerator for 2hrs.
Remove from bowl and grill lamb to your liking/taste. Plate & serve.
-----------------------
EASTER HAM
Ingredients:
Your favorite grocery store bought ham
Delmonico's Spiced Apple Marinade or marinade of your choice 

Instructions:
Coat the ham with the marinade to taste. Place in oven and follow the instructions on the ham packaging.
Plate & serve.
-----------------------
BACON, PEA & MINT SALAD
Ingredients:
1 bag frozen green peas
1 large white onion, diced
2 oz. butter
1 bunch mint, shredded
1/4 c. chicken broth
1 c. thick bacon, cooked and cubed
Olive oil, Salt & Pepper to taste

Instructions:
In a cooking pan, add 1 oz. butter, olive oil & onion. Sweat the onion (saute until onion is cooked through, do not brown).
Add bacon, peas, chicken broth, salt & pepper. Cook 3-4 minutes to warm through. Add mint & 1 oz. butter. Mix in pan.
Plate & serve
-----------------------
WARM POTATO & GRILL ASPARAGUS
Ingredients:
2 bunches asparagus, cut stems
1 c. grated parmesan cheese
4 large baking potatoes
3 sprigs thyme
1/2 c. olive oil
2 lemons, juiced
4 cloves garlic, sliced
Salt & Pepper to taste

Instructions:
Blanch asparagus
How to Blanch: Add asparagus to boiling salted water for 2 minutes then drain the asparagus and run under cold water to stop the cooking process.

Blanch potatoes
How to Blanch: Wash & scrub potatoes. Add potatoes to salted water, bring to a simmer, cook al dente. Drain the potatoes and let them cool down. Slice into discs.

In a mixing bowl, add asparagus, potatoes, juice of 1 lemon, olive oil, garlic, thyme, salt & pepper. Mix until asparagus and potatoes are coated

ON GRILL: Grill asparagus and potatoes until slightly charged. Remove and plate. Drizzle juice of 1 lemon & olive oil. Garnish with grated parmesan cheese.

IN OVEN: Add asparagus and potatoes to aluminum pan and place in oven at 350ºF for 20 minutes; or until potatoes start to brown. Remove and plate. Drizzle juice of 1 lemon & olive oil. Garnish with grated parmesan cheese
-----------------------
Delmonico's Restaurant: @DelmonicosNYC
The original Delmonico's Restaurant opened its doors in Manhattan's Financial District in 1837, thus becoming the first fine-dining restaurant in the United States. Over the next 175 years, the revered birthplace of American classics such as the Delmonico Steak, Eggs Benedict and Baked Alaska would continue to define culinary excellence. Today, Delmonico's endures as a celebrated New York City mainstay. 56 Beaver Street, New York, NY.

Delmonico's Kitchen: @DelsKitchenNYC
Opened in 2012, Delmonico's Kitchen is a chic Midtown eatery that offers a new spin on the flagship restaurant's iconic menu. From cuisine to décor, Delmonico's' historic roots collide with fresh flavors and ingredients at this modern spinoff. 207 West 36th Street, New York, NY.