'DWTS': UFC's Paige VanZant scores knockout after partner's shocking injury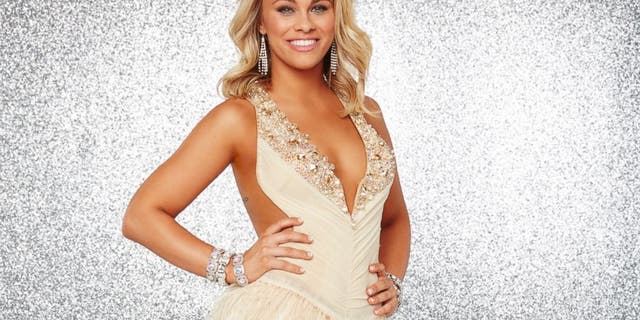 LOS ANGELES – Mixed martial artist Paige VanZant had to fight through adversity to get to the top of "Dancing with the Stars" leader board on Monday night.
VanZant threw down an explosive salsa with a last minute replacement partner and tied for first place on the show's second week of competition.
The athlete's regular dancer, longtime "DWTS" pro Mark Ballas, injured his back during Sunday's dress rehearsal. Viewers saw the drama as after Ballas slid VanZant under his legs in a quick salsa move, he gave her a "time out" sign and moaned, "I just slipped a disk."
Ballas was flat on his back on the floor saying, "I'm in trouble. I'm hurting."
Unfortunately, Ballas wasn't able to dance with VanZant, 22, so troupe dancer Alan Bersten filled in. The move worked out as Judge Len Goodman hailed VanZant's performance as "the best dance so far on season 22."
Carrie Ann Inaba agreed, saying VanZant "destroyed that number," and the UFC fighter received a score of 24. Only Boyz II Men singer Wanya Morris equaled that in a "DWTS" tie for first on Monday.
After the show, VanZant told FOX411 about Ballas' injury, "Of course I was so upset. It's scary anytime you have an injury especially because this is his career. I'm a fighter. I'm here for fun. This is just for the experience. It's not about winning. It's not about a paycheck. I'm here to show off a whole new side of me and when he when he gets hurt, this is his livelihood so I really hope he gets better soon and of course, he wanted to come in and dance again but he was advised not to so hopefully his injury just gets better."
Although Ballas felt it was a slipped disk, he's not yet sure. Ballas told hostess Erin Andrews that he'd undergone an MRI and also planned to get a bone and CT scan to figure out what was wrong with him.
VanZant said she once had an injury and had to miss a fight: "Actually, my UFC debut, I had to pull out of my fight and make it a later date because I had the exact same problem. I mean, we're not sure what's wrong with [Mark] but I had the same lower back problem. I had my back go out, I had a herniated disk, so I went through the same thing."
When asked what the chances were of him coming back next week, VanZant sighed, "I have no idea. It's a little scary. We'll see.
"I'm sure he's still in pain. He's here [at the taping] to be supportive; it's great."
Last week, Ballas told FOX411, "Having her as a partner is a huge honor. I've been a fan of her for a couple of years. I watched all her fights last year."
Although sad for Ballas, VanZant said she "felt great" dancing with Bersten and thought her unpredictable fighting career might have prepared her for the partner change.
"Of course, fighters have to switch opponents really fast and you learn a new opponent's body type, you have to look at their fight style so this is a little like that. It was scary to switch it up at the last second [but] I felt really good."
Bersten commented on their salsa, "I'm just happy that Paige had a great night. I feel bad for Mark, obviously. I hope he gets better soon but it was just a great experience. Paige is such a nice partner. She really just trusted me and we got through it."
He said he would step in again next week if necessary: "Anything for Paige."