'DWTS' Recap: Nick Lachey is eliminated while wife Vanessa loses her skirt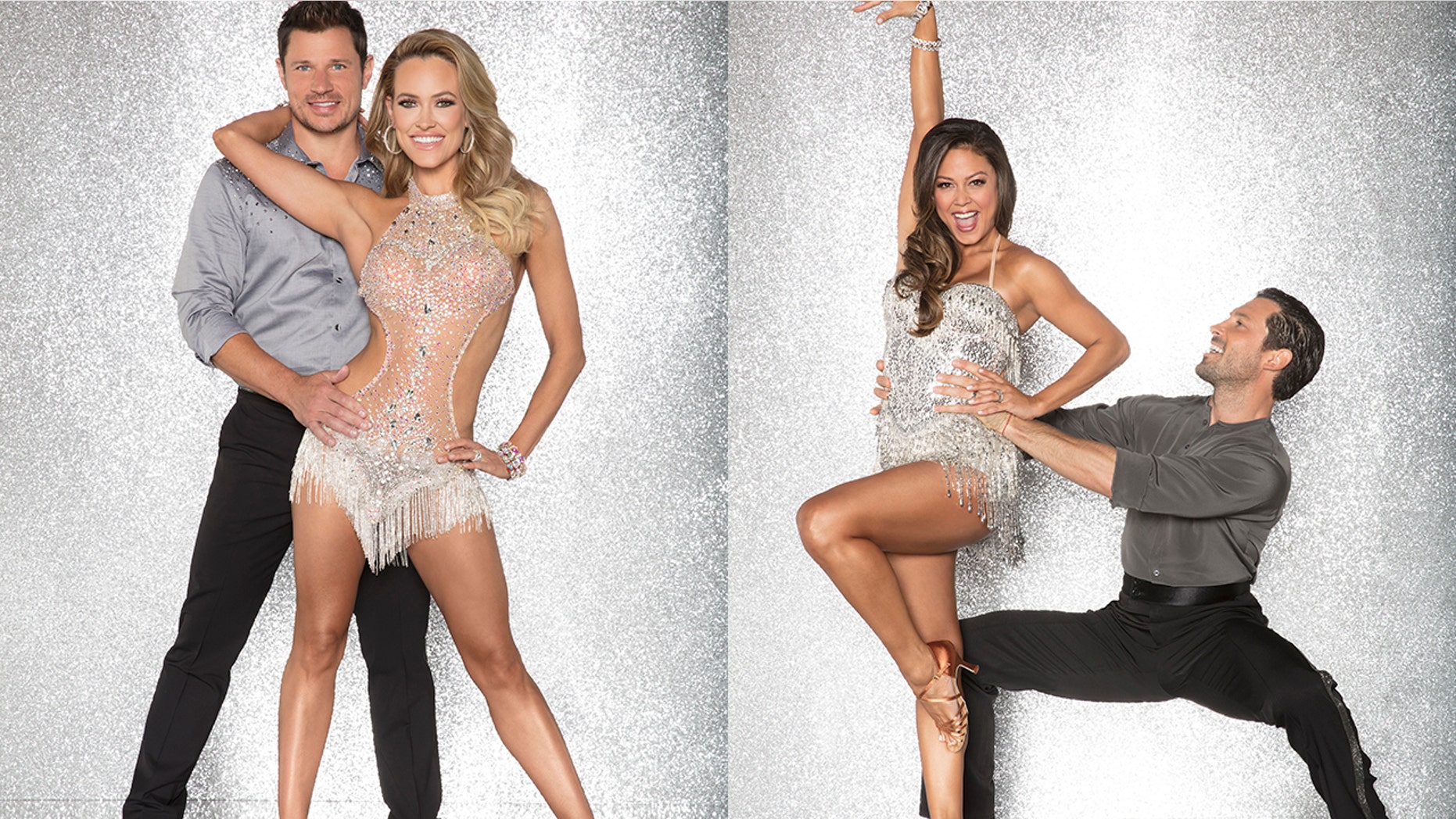 "Dancing with the Stars" married competitors Nick and Vanessa Lachey had a difficult Monday night as the singer was eliminated -- and his wife lost her skirt in a wardrobe malfunction!
Nick, who scored low all season on the show, finally received his inevitable walking papers after performing a western-style samba on "movie night." He only earned 26 out of 40 points for the dance with partner Peta Murgatroyd.
After the show, Nick told reporters, "I'm very proud of the effort we gave, the journey we took. I have no regrets at all about my decision to do the show or anything else. We worked as hard as we possibly could."
"I went into this thing knowing I wasn't a good dancer, knowing it would be an uphill climb," he admitted.
Nick hopes that his wife wins and revealed, "We've already cleared the space for the mirror ball [trophy]. Even though I didn't bring it home, there's still hope for the Lachey household."
In fact, Vanessa continued to dance beautifully on "DWTS" with her partner Maks Chmerkovskiy, but they had a mishap during their live quickstep when her red skirt suddenly fell to her feet.
With great aplomb, the two kept dancing and don't worry, there was no nudity. Vanessa's body was covered by the rest of her costume. Host Tom Bergeron dashed onto the ballroom floor to pick up the errant skirt and removed it so it wouldn't be in the way.
After the 1940s' Andrews sisters style dance based on musicals, Vanessa laughed to the judges and Bergeron, "I lose my skirt right in front of the judges. It looks like bribery…Hey, if it's for extra points, I'll take it."
Vanessa received 36 out of 40 points from the four judges, which included guest Shania Twain joining regulars Carrie Ann Inaba, Len Goodman, and Bruno Tonioli.
But the top score of the night went to violinist Lindsey Stirling and Mark Ballas, who brought the ballroom house down with a science fiction style Argentine tango for a perfect 40 points. "Hamilton" star Jordan Fisher and pro Lindsay Arnold scored the second highest of the night, 39 for their rumba based on movie drama.
Meanwhile, former football player Terrell Owens and his partner Cheryl Burke also impressed judges, grabbing 37 points.
Owens told reporters of their James Bond-themed spy dance, "I'm still in the hunt. I think we're steadily improving. With this process, it's not how you start but how you finish. Cheryl is pushing me to the limit."
Nikki Bella and partner Artem Chigvintsev were the picture of "foreign film," as they turned in an Argentine tango, tying Vanessa and Maks with 36 points.
Former "Malcolm in the Middle" star Frankie Muniz and partner Witney Carson did a psychedelic jazz number that was marred by bobbles and garnered 31.
The routine that was supposed to represent the movie animation genre left the judges disappointed, with Inaba sighing that there were "a lot of mishaps."
Tonioli told Muniz, who previously excelled on the show, "You lost timing."
But guest judge Twain said, "You were just so liberated…I thought it was right on."
Muniz later said, "It was my worst performance."
"I messed up on so much," the former child star admitted to Fox News. "That was bad for me."
Paralympian Victoria Arlen and partner Val Chmerkovskiy also received 31 points, for a creative movie sports-themed hockey Paso Doble and she said backstage, "It was a crazy routine…it was just a lot of fun. I'm fighting every week on this show."
Val said he was "tougher on her than usual" this week as the competition is close.
"Property Brothers" star Drew Scott (with Emma Slater) earned 30 points, second lowest to the departing Nick Lachey.
Next week, the competition will get even more intense as the remaining stars will have to perform both an individual and team dance.