'DWTS' judge draws Twitter outrage after giving Kellie Pickler low score in week 8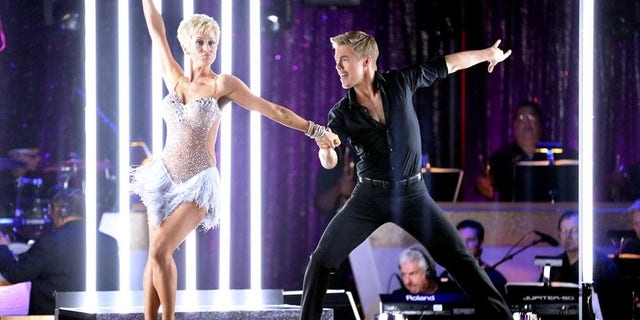 NEWYou can now listen to Fox News articles!
Kellie Pickler was robbed!
With just six celebrities left and two hours to fill, the "Dancing with the Stars" contestants had to perform a "trio dance" with a third partner–in addition to their regular routines–in order to secure a spot in next week's semi-finals.
Following Pickler's first dance, a Viennese waltz that earned her and partner Derek Hough 28 points, the country star was on track to ace her trio performance. Instead, she inspired near-fisticuffs from the judges.
Pickler and Hough, along with third dancer Tristan McManus, turned out a dramatic interpretation of the Paso Doble. Their powerful, near-flawless moves were punctuated by perfectly timed flashes of lightning and mirrors breaking.
The routine was impressive enough for judges Carrie Ann Inaba and Bruno Tonioli to award Pickler and her partners a perfect score of 10, but cranky judge Len Goodman thought that the dance was too gimmicky for his taste.
"I was expecting more than flashing lights and crashing music," Goodman scowled. "It was a hodgepodge of moves just out there to titillate the taste buds."
But instead of deducting a mere point or two from his score, the persnickety judge awarded the trio a spiteful 7.
Inaba and Tonioli were so shocked by Goodman's reaction, the judging panel devolved into a finger-pointing, foul-mouthed screaming match.
Naturally, the Twitterverse also erupted in outrage.
"Len needs to be voted off the show," tweeted one angry fan.
"#lengoodman you are crazy," tweeted another. "How dare you give them a 7."
"Somebody needs geritol & sleep," tweeted "The View" host Sherri Shepherd.
Luckily for Pickler, she and Hough earned immunity with their Samba last week, so they won't face elimination on Tuesday night, despite earning a total score of 55 out of 60 for the night.
While many fans, and judges, seem to believe that Pickler was wrongly denied a score of 30, Zendaya Coleman earned the season's first perfect score, earning three 10s from the judges for her Salsa with partners Val Chmerkovskiy and Gleb Savchenko.
"It was a star turn," raved Tonioli. "Sizzling and dazzling and amazing."
"You are the queen of the Salsa," declared Inaba. "You guys were just fabulous."
Combined with her Foxtrot, Coleman and Chmerkovskiy earned 58 out of 60 for the night.
Olympic gymnast Alexandra Raisman joined Pickler and Coleman in the top three, earning 29 points for her saucy Argentine Tango with partner Mark Ballas.
"I had no idea you could be so good at being bad," leered Tonioli.
Raisman's Jive trio with Ballas and Henry Byalikov earned her a respectable 27 points for a total of 56 points.
Baltimore Ravens star Jacoby Jones proved that he was still in the competition, making yet another fearless leap over not only partner Karina Smirnoff, but third dancer Cheryl Burke during his trio dance of the Paso Doble. Jones' leap was not enough to impress the judges, earning a just okay score of 25.
"A man is supposed to take care of his women on the dance floor," scolded Inaba after Jones literally tossed both of his partners across the stage like a football.
Goodman was more charitable about Jones' rough style of dance.
"This isn't a dance floor tonight. This is a bull ring, and I'm telling you, you came out with fantastic presence," he said.
The NFL wide receiver, dutifully cheered on by his vocal mom Emily, did slightly better with his Viennese Waltz, earning 27 points for a total of 52 points from the judges.
After complaining exhaustion during rehearsals, Ingo Rademacher performed a Foxtrot with partner Kym Johnson that Toniolo described as a cross between Fred Astaire and Fred Flintstone. Inaba more charitably compared the soap opera star to a "casual" Gene Kelly. The routine earned Rademacher three 8s from the judges for 24 points.
Rademacher's second dance, a Jive trio performed with Lindsay Arnold that involved pink sweaters, popcorn and a cameo from Florence Henderson, is lucky to have earned him another 24 points for a total of 48 for the night.
Poor "Bachelor" star Sean Lowe, who has been fighting rumors that he's romantically involved with partner Peta Murgatroyd, performed a jilted bride-themed Tango that may have made his moon-eyed fiancée in the audience a little nervous.
Goodman found Lowe's feeble footwork foul enough to describe it as "ugly." The "Bachelor" earned 21 points for his lackluster hoofing.
Adding pro Sharna Burgess to the mix didn't help Lowe's cause. The trio performed a clunky magic-themed Jazz dance for another set of 7s from the judges.
"I don't think people fully grasp how hard it is, especially when you're as Caucasian as I am," a defensive Lowe explained to host Brooke Burke-Charvet. "I'm just trying my best to hang in."
With a score of 42, Lowe may not hang in for much longer...
Up Next: The stars will shimmy to their fans' favorite Twitter hashtag dance (don't ask).