Drugs Hell, Secret Love of Michael Jackson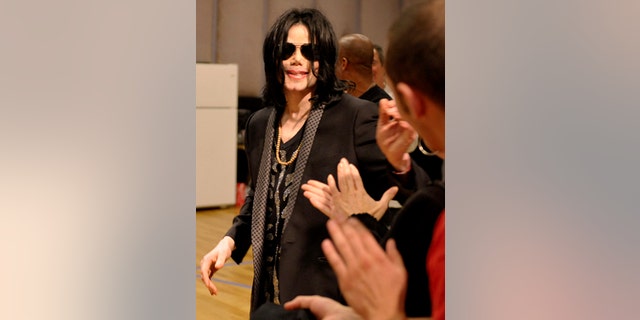 LONDON – Michael Jackson had a long-standing secret girlfriend and developed an addiction to drugs supplied by unscrupulous doctors, his bodyguard told Sky News in an exclusive interview.
The astonishing claims were made by Matt Fiddes, the tragic singer's friend and U.K. bodyguard, who told how he and Uri Geller found and hid drugs and even needles from his room.
He also quashed rumours that Jackson was gay and said he had met the secret girlfriend on several occasons although he refused to identify her.
VIDEO: Click to watch the interview on SKY News.
"I'm not going to name who she is, but I think the family were aware that there was someone special in his life who he loved and adored and had his ups and downs with," he said.
"I don't know how long they've been a couple. I know she's been with him for some time in different capacities but ... it's up to her if she wants it to come out or the family to speak about this very private information."
FULL COVERAGE: Click for FOXNews.com's complete coverage of Michael Jackson.
Matt, 29, from Devon, runs a network of martial arts schools around the U.K.
He was introduced to Jackson around a decade ago via spoon-bending guru Uri Geller, who he had worked with on a fitness video and was an old friend of Jackson's.
LIVE SHOTS: Click for the FOX News team's on-the-ground Michael Jackson coverage.
He became friends and worked as the superstar's bodyguard on visits to the U.K. over the following decade, although he was never paid. He volunteered his services for free after Jackson complained that security services charged him a fortune.
Matt says he and Uri tried in vain to keep drugs away from Jackson only for him to get more from the doctors, who he accused of charging fans up to $20,000 for introductions to their idol.
"I never witnessed him actually taking drugs but I knew they were there and I confiscated packages, and Uri did too," he said.
"And Uri confiscated injection equipment from his room ... Uri would scream at Michael, you know, intensely, to stop doing this but we were getting pushed out.
"The doctor had such an influence over Michael that we felt our efforts were falling on deaf ears.
"As far as I'm concerned they have Michael's blood on their hands, they know what they've done and there's people out there who could have helped, could have stepped in but didn't for financial reasons.
"We went to great efforts to keep the doctors away. But as soon as we said anything and it gets back to Michael, Michael would have a screaming fit that we were interfering with his private life, that he knew what he was doing and he was in denial."
The worst state he ever saw Jackson get in to was before a trip to London Zoo, he said.
"We were extremely concerned. Uri would say 'Michael, have you taken something?' He would come round and say it was jet lag.
"We never made it to that London Zoo visit. We couldn't get him in a state that would portray him in a good light so we had to cancel and Uri donated [almost $2,000] to the zoo because he felt so bad."
Yet Matt said the star was not taking hard drugs. "Michael Jackson was not a druggie. There was no cocaine or anything crazy like that. It was prescription drugs and painkillers from what I understand."
Matt also said he never believed the child-abuse allegations that dogged the star in later years, and trusted him so much he allowed him to take his own step-childen on shopping trips.
"The guy was so naive and so trusting," he said
"We never doubted Michael, we knew he was innocent right from the start and what the real reason was, as far as we were concerned, was financially motivated."
Matt said he had fond memories of his time with the star, such as getting him to dress up as himself to act as a decoy for the crowds and laughing hysterically as the strapping 6ft 3in bodyguard put on the trademark face mask and hat.
"He didn't like to trick his fans because he loved them dearly, but he felt it would be in their own interests, for their safety that we would do that every now and again," he added.
"He was just such a gentle man, you know? He was never built for superstardom as far as I was concerned.
"I've met a lot of celebrities and they're very hard and strong, whereas Michael was very delicate and sensitive and caring. Too caring.
"He would watch children in Africa on TV and cry in his hotel room. He would want to go and visit hospitals in the middle of the night, or go to places in London where there were homeless people and give them money and food.
"I hope the general public will remember him for his music and the incredible talent that he had. He was always singing songs and writing lyrics. He lived and breathed showbiz."