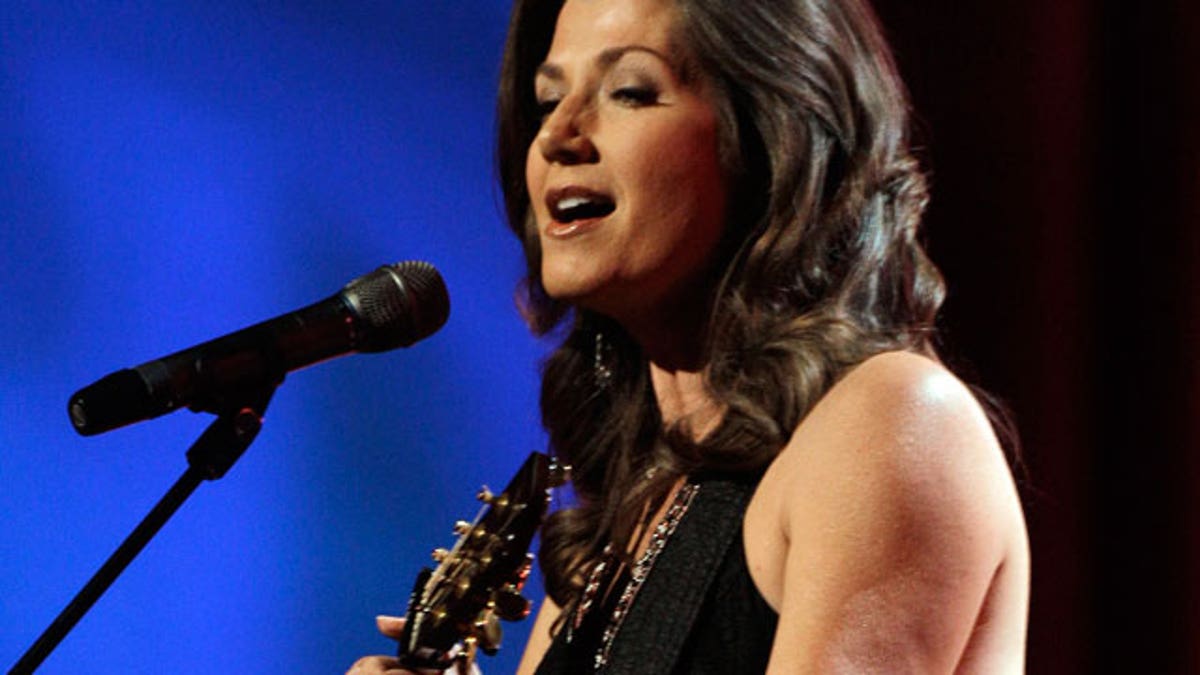 "American Idol" winner Jordin Sparks belts out the show's opening number.
Midway through the evening, former heavy metal band Korn's lead guitarist, Brian"Head" Welch, brings down the house with his instrumental technique and athleticism.
Toward the end of the night, bluegrass icon Ricky Skaggs sings his new single.
The lineup suggests the Grammys. But the music signals a more heavenly intent.
This is the 41st Annual Dove Awards, which air Sunday night on the Gospel Music Channel. It is Christian music's big-night equivalent to the Grammy Awards.
From rap to pop, hip hop to rock, soul to Southern gospel, contemporary Christian music encompasses every musical style and is eking its way into the mainstream, and vice versa.
It's become a "marketplace ministry," says Skaggs, who's won two Dove Awards along with a slew of Grammys, Country Music and Bluegrass trophies.
"Two weeks ago we played a Texas tour," Skaggs says, "and on Tuesday night we played a church in Amarillo. Then on Thursday night we played the oldest dance hall in Texas in Brownsville.... People standing up for hours drinking and having a good time listening to us play bluegrass and doing gospel."
Although the Gospel Music Channel is not a major network – it is seen in only about 48 million homes -- the music itself is starting to generate some impressive numbers.
According to Ed Leonard, president of the Gospel Music Association, there were nine Christian singles on Billboard's top 200 that debuted in the top 25 in 2008. Last year that number increased to 13.
Generating about a half a billion dollars, Christian music sales as a percentage of all music receipts rose to 7.2 percent last year from 6.8 percent in 2008. At the same time sales of other music saw losses.
Mark Hall of the five-time Dove Award winning group Casting Crowns, believes Christian music is successful because "everyone is searching for hope."
"Everyone is wanting answers, especially now... so much uncertainty right now," he says.
What also can't be ignored is Christian music's connection with many of the "American Idol" contestants and winners. "Idol" is the biggest and most successful talent show in U.S. history, catapulting unknown artists onto stardom's main stage. Several participants, including Melinda Doolittle, Bo Bice, Mandisa and a host of others, grew up in church. Like season five winner Jordin Sparks, they may go on to successful pop, country or rock careers, but they never forget their spiritual roots.
"Jordin's got a very strong faith," says Leonard. "I first met her at a Gospel Music Association event at Estes Park several years ago. She was competing. Her faith is important to her."
Another reason for Christian music's success may be found in Brian Welch's personal journey.
He grew up idolizing rock legend Ozzie Osborne and dreamed of being a heavy metal star. Welch tells of how he practiced for hours perfecting his skills when he was 10. Fast forward a decade and he's in Hollywood, starting a band called Korn. They get a record deal, then six months later they're on tour with his "childhood hero." It was a dream come true – but it quickly turned into a nightmare.
"I'm living the life, making all this money," Welch says. "Korn goes Number One on Billboard. Checks start rolling in." But then, he says, "The rock star life attracts the drug dealers and everything and the party goes out of control for years.
"I had a massive addiction and I took it all over the world and made a mess of myself. And I was either going to die or find a way out. I found a way out."
Rehab didn't work. So Welch went to church with some friends. The pastor told him to pray to Jesus.
"So I went and prayed and said, 'Jesus, if you will, take this stuff from me or I will be a goner. My daughter will lose her dad."
Two weeks later, Welch says, "I felt the presence of love and gushing peace into me and around me and it was so real."
Welch still sports his rocker looks -- long hair tied in lots of white rubber bands, tattoos over most of his arms and face, black jeans, t-shirt and sneakers. And his music is still heavy metal -- but it's for a difference purpose now. He calls it "a gift from God."
That diversity within the Contemporary Christian/Gospel music category primes its artists for crossover success. Amy Grant was once the queen of Christian contemporary, yet some people of a certain age may know her only for her foray into the pop charts.
Then there's Skaggs, a Country/Bluegrass artist who is releasing a Gospel album with the single he sang at the Doves, "Someday Soon, We Are Going to See the Lord."
Skaggs' new offering is part of what he believes will be the next revival of faith in this country, a revival he predicts won't only be in the hallowed halls of stain glass and spires.
"I believe that the next revival that's coming is going to start in the marketplace," he says.
"Sometimes the church is the last ones to know how people are hurting in the streets everywhere. It's like the marketplace is so hungry for hope... they're hungry for something of substance."
And the Christian music industry is ready, willing and able to serve up a banquet.