Donny Osmond explains how he keeps the romance alive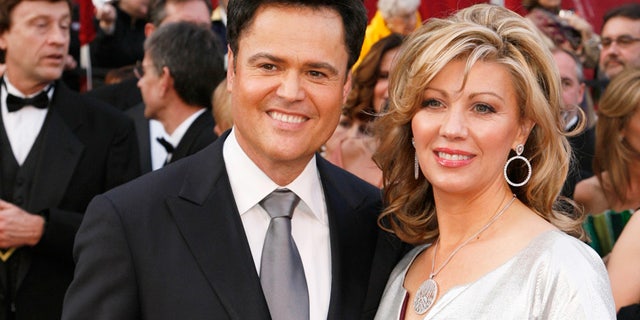 It's no longer "Puppy Love" for Donny Osmond. But after 39 years of marriage to his wife Debra, he still knows how to be romantic.
The 59-year-old singer said after his recent performance on "Dancing with the Stars" that he was planning something big to celebrate their 40th anniversary on May 8th.
"We've always been talking about renewing our vows," the former teen idol revealed. "I'm not sure where we're going to do it, but there's a certain place in Hawaii. I actually proposed to my wife in Hawaii. So we might just do it in Hawaii for 40."
MARIE OSMOND REMARRIES FIRST HUSBAND
But first, Donny and Debra will stay at Utah's Sundance Mountain Resort to commemorate the special occasion.
"I do things that surprise her, just little romantic things, so on our [39th] anniversary, I'm going to go up to Robert Redford's place, Sundance, and just pick her up," explained Osmond.
"We're going to have dinner and spend the night there cause that's where all the magic started to happen there at the Tree Room [restaurant] at Sundance," he added. "The weather's going to be perfect and we're going to go on a little hike, just the two of us."
MARIE OSMOND: THE SHOW MUST GO ON
Osmond, who has performed in Las Vegas with sister Marie for nine years, added that thoughtful gestures are the key to his happy union.
"I've found in 39 years of marriage, it's not the big things," he said. "It's the little forget-me-nots, it's the little notes, just small little love notes that women love, the sensitive things."