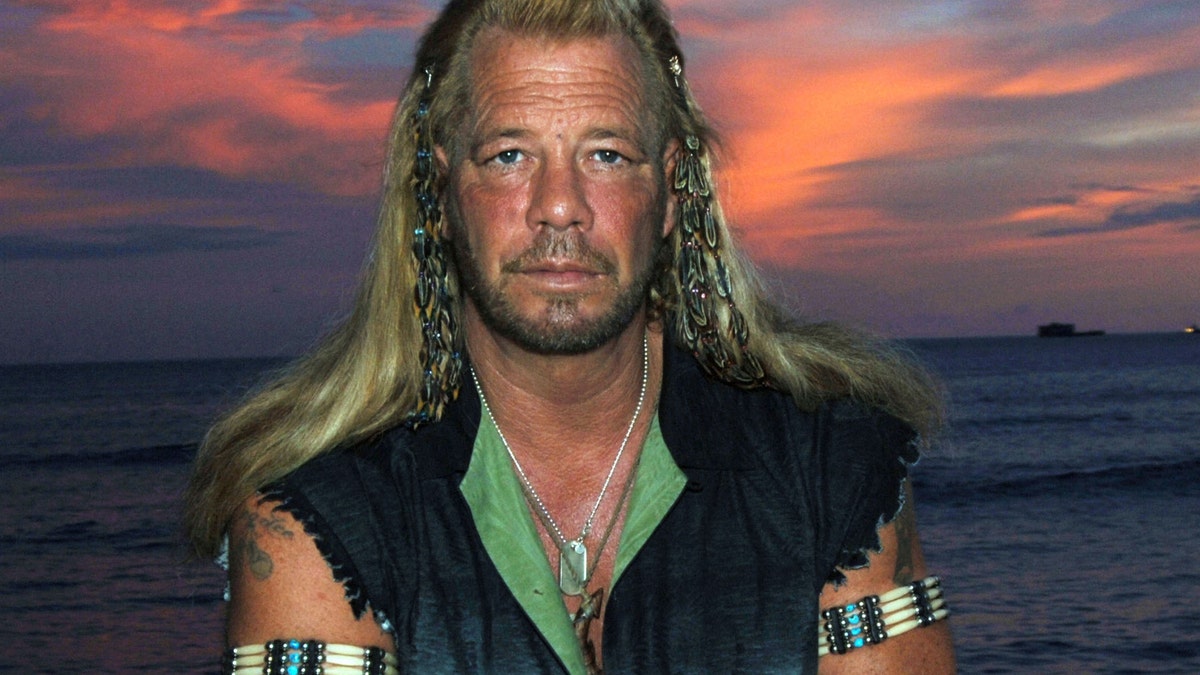 HONOLULU – Duane "Dog" Chapman has his bags packed for London, but a murder conviction from the late 1970s is keeping him out of the United Kingdom.
The reality television star from the show "Dog the Bounty Hunter" was to appear on another reality show, "Celebrity Big Brother," but he has been denied a visa.
"It's something that follows you the rest of your life, no matter who you become or who you are," Chapman, 59, said Monday from Honolulu, where he lives. "I'm not proud of it."
He was 23 in Pampa, Texas, in 1976 when he was in a car outside a house where a friend had gone inside to buy marijuana, he explained. The friend got into an argument with the dealer and shot him.
"In Texas in the '70s, if you were present, you were just as guilty," Chapman said. He and the others in the group were all found guilty of murder. Chapman was sentenced to five years in prison and was paroled after 18 months.
"I shouldn't have went and I shouldn't have been the person I was back then," he said. But he's frustrated that it's keeping him from visiting his fans in the UK. "It feels terrible. I'm dumbfounded. I can't believe it, after all these years, especially when we've been on television for the past nine years."
While he's been denied a visa to visit the UK in the past, his temporary worker visa application notes he has traveled outside the United States, including to Mexico, where he went to capture serial rapist and fugitive Andrew Luster in 2003.
Former Pampa police Officer Charles Love, who was the responding officer in 1976, submitted a declaration saying that "Chapman's role in the crime was minor," and that he was a model inmate until he was granted early release.
"He was just at the wrong place at the wrong time with the wrong people," Love said Tuesday. He's now a deputy sheriff with the Roberts County sheriff's office in Miami, Texas. "I know they have rules, but that's 35 years ago. I think he deserves a chance."
Regardless of whether it will sway the UK government, Chapman said he has waited three decades for Love's words, which he sees as vindication. "I'm so grateful for it," he said, getting emotional. "I have been telling the truth."
Britain's Home Office said in a statement Tuesday it doesn't comment on individual cases: "All visa applicants are required to declare any criminal convictions when applying to come to the UK. The UK Border Agency subjects all applications for visas to the same rigorous checks."
According to the UK Border Agency's refusal notice provided by the Chapmans, the visa was denied because of the conviction and because his application didn't include enough information about his visit.
Production company Endemol UK Ltd. submitted a letter saying it is sponsoring Chapman's trip and that he was selected for the show "due to his public interest in his lifestyle and celebrity personality."
Chapman is appealing the visa denial and hoping for a last-minute decision, even though the show was to start to this week.
His wife, Beth Chapman, called the denial "insulting" in light of his charity work. "For 30 years he's lived with the X on his back," she said. "Society just doesn't let it go."
A&E decided not to renew Chapman's series after eight seasons. He said that while he works to get the show back on the air, he was relying on the UK show and the other gigs he lined up in London.
"I've got to make a living. It's really stunned us financially."