Documentary reveals a different side of late night king Johnny Carson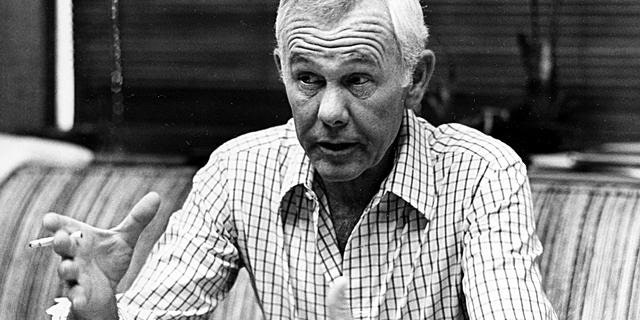 NEWYou can now listen to Fox News articles!
This year marks the 50th anniversary of Johnny Carson taking over "The Tonight Show" stage from Jack Paar. It is also the 20th anniversary of Carson's retirement. But how much do most people really know about the television legend away from the lights and cameras?
In a new documentary, "American Masters Johnny Carson: King of Late Night," filmmakers Peter Jones and Susan Lacy peel back the many layers of the comedian's life and career, offering an unprecedented glimpse into the man who won the collective heart of a nation.
"The gift Johnny had was that he just had a magical way of connecting with the audience in a way no one had done before, or has done since," Jones told FOX411's Pop Tarts column. "He was able to connect with everyone -- from young and old -- while maintaining his own sense of self. He was the most famous man in America, and yet we really didn't know who he was."
Narrated by Kevin Spacey, the documentary includes a wealth of archival footage and interviews with those deeply influenced by Carson -- from David Letterman and Jay Leno to Drew Carey, Ellen DeGeneres and Conan O'Brien -- and offers some insight into what went on in that iconic mind.
[pullquote]
"Not long before he died, Johnny went to dinner with Garry Shandling and Jerry Seinfeld, and apparently went on about his disappointment in the direction television was going, with its tabloid nature and reality garbage," Jones said. "He had said he was sickened by what was going on, and was glad he got out when he did."
But bringing Carson's largely untold legacy into a two-hour special was no easy assignment.
Every year for 15 years Jones wrote a letter to the very private American superstar, who rarely gave interviews, requesting his cooperation in the production of a documentary. Finally, in 2003, he received a response -- a call from Carson himself.
"You write a d*** fine letter, Peter, but I don't have anything more to say," he said.
Following Carson's death in 2005, Jones directed his letters to his nephew, who controls his uncle's archives, and soon he was brought into the very private world of the very public personality. Why? The family didn't want people to forget Johnny Carson.
"I think audiences are going to be very surprised about how different his public persona was compared to his private persona. He was so affable and at ease in front of the camera, yet in his private life so awkward and insecure," Lacy continued. "There are a lot of aspects to his story that are sad . . . We see how he used things like magic tricks and drumming to really distance himself and create this other being."
Perhaps the most poignant aspect of the documentary is the exploration into Carson's painful relationship with his mother. While at his peak Carson commanded a nightly audience of 15 million viewers, double that of Leno and Letterman combined, he could never get the approval that he longed for from his mom, who never thought her son was funny enough, good enough, successful enough.
"I just hope that after seeing this people will love Johnny on a different level," Jones added. "I hope that it can make people feel stronger."

"American Masters Johnny Carson: King of Late Night" will premiere Monday, May 14, at 9pm ET/PT and stream after the premiere at http://pbs.org/americanmasters ; http://pbs.org/americanmasters