Despite Initial Skepticism, Ana Ortiz Proud Of Her TV Show, 'Devious Maids'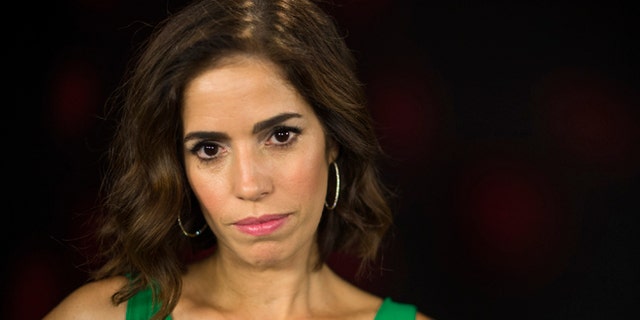 LOS ANGELES (AP) – Ana Ortiz was skeptical.
Yes, the project came from two classy Hollywood acts: "Desperate Housewives" creator Marc Cherry and, serving as a producer, "Housewives" star Eva Longoria. And, yes, the show would be a lavishly filmed English-language production for an American TV studio starring five Hispanic women.
Ortiz said her initial reaction to the first script was: "Maids? It's got to be maids?"
So Ortiz, who had appeared on ABC's "Ugly Betty" (2006-2010), understood when some of the harshest initial criticism of "Devious Maids" came from the Latino community.
"The Latino community was the first out of the gate being really hard on us," the New York-born Ortiz, who is of Puerto Rican and Irish descent, said in a recent interview.
Now the soapy dramedy, which concludes its second season on Sunday (10 p.m. EDT), is among Lifetime's highest-rated shows. And the series is riding high on a recent acknowledgment: All five leads are nominated for Imagen Awards, to be presented Aug. 1 in Beverly Hills, which "recognize and reward positive portrayals of Latinos in all forms of media."
"And so, to have these nominations from the Imagens, it is such a beautiful full-circle moment," Ortiz said. "I'm so proud for all the girls. And I'm really proud of the show."
Ortiz, 43, said Longoria has kept an eye on the scripts, assuring the five women are portrayed as three-dimensional characters and not Latino stereotypes.
She said Sunday's show is "a beautiful finale, actually."
"What can I say? There will be a wedding, a gorgeous wedding. But the happiness of the wedding will be short-lived."
Ortiz said she's proud of the way Latinas are portrayed on "Devious Maids." But, she added, "Eva made a really good point about it. She said, 'I'll really be happy for the day when it's just: Here's a new show. It doesn't have to be a new show with five women in the leads, or five Latinas in the leads. It's just a new show.'"
Follow us on twitter.com/foxnewslatino
Like us at facebook.com/foxnewslatino