Denise Richards: From 'Wild Things' to new family show 'Twisted'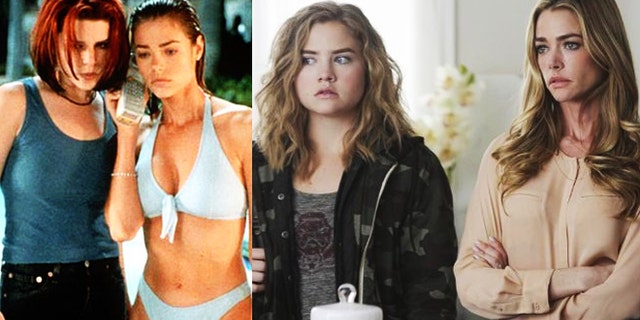 Denise Richards has a pretty full plate right now. Not only does she have a new show on ABC Family called 'Twisted,' the 42-year-old is also a mother of three daughters and recently generously took in her ex-husband Charlie Sheen's four year old twins, Max and Bob while their mother Brooke Mueller undergoes another round in rehab.
She spoke to FOX411 about the show, the kids and dog poop.
FOX411: Tell us about 'Twisted.'
Denise Richards: It's got a lot of twists and turns. It's got some mystery to it, it's very different from anything ABC Family has done, which I was surprised by when I read the script, and I loved how they pushed the envelope with it. My character used to be a socialite, very popular and then her son did something really awful and her entire life was turned upside down. The son gets out of juvie and they're trying to put their lives back together. It's been a very difficult transition trying to go from being the person that everyone loved, to being ridiculed and everyone talking about them and trying to fit back into their small town.
FOX411: Can you relate to that?
Richards: (Laughs) Yeah obviously the circumstances are much more extreme, but I have had everything written about me you can possibly imagine, so that part I can relate to.
FOX411: Do your girls think you're super cool because you're on ABC Family?
Richards: They were very excited that I was playing Avan Jogia's mother who was on 'Victorious,' and they watched 'Victorious.' They were very excited but they were like, 'Mom he's too old to be your son.' I was like, 'Thanks!' I was very flattered that they thought that. They met him and they were so shy and star struck. It was very funny.
FOX411: You have a million pets.
Richards: I have a lot of dogs. The number varies because I'll foster a mom with her pups. I do a lot of work with Best Friends Animal Society.
FOX411: Ever get sick of picking up poop?
Richards: Well that just goes with the territory, picking up dog s**t. I have a really good dog s**t scooper. I don't like it in the yard and I do pick it up myself. I don't have someone else doing it. I just go out there and pick it up especially because the kids swim a lot and it's good not to have any dog s**t there.
FOX411: You really have a full house now.
Richards: I always have a full house! It's part of being a mom. You just learn how to manage. I think of it as organized chaos. I dont' have a chart, but I have a schedule of the kids activities so I know who's going where which day. I get my shooting schedule every Friday and a lot of times the kids will come to the set if they finish school early and I'm still working.
FOX411: A lot of guys must love you from 'Wild Things.'
Richards: Yeah, it makes me feel really old when they say, 'I watched you when I was a teenager.' It's definitely a popular movie. It gets brought up a lot. It's very sweet and very flattering. I'm glad that movie has crossed over to the younger generation. They definitely play it often.
FOX411: Do you watch it when you catch it on cable?
Richards: First of all, if I ever come across it, I have to quickly flip through it because there is no way in hell my daughters could ever see that movie. Ever! I won't let them watch it. I'm going to say, 'It's very risque. I don't want you to see mommy in this movie.' They're actually pretty good. They're not the type that will watch it anyway. They're pretty good like that. They don't ever want to hear bad words.