Demi Lovato talks awkward meeting with gynecologist, slams tattoo artist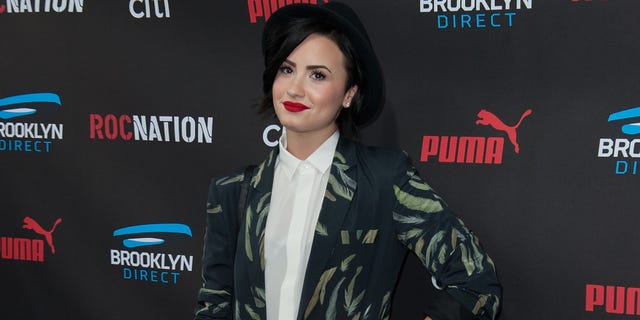 Demi Lovato is known to be more than willing to sign autographs and pose for pictures with her unwavering fans. But there is a time and place for it, she said — and the doctor's office is not one of them.
The 22-year-old recounted some of the most awkward fan run-ins during a radio interview in New Zealand, where she took her Demi World Tour 2012 this week.
"There's been so many uncomfortable and actually very violating moments at like, the gynecologist and the doctor's like, 'Can I have an autograph for my daughter?' and I'm like 'F*** you! What the hell is wrong with you?'" Lovato said.
She said it was not the only time something like this has happened.
""I'll get laser (hair-removal) or whatever and someone will be, same thing, you know, my such-and-such is a huge fan, and I was like, 'Well, you now can tell them you've seen my vagina.' Like the whole thing," Lovato said.
The "Neon Lights" singer also recently found herself in the middle of a feud with a tattoo artist who slammed Lovato earlier for covering up and making fun of a lips tattoo she had done on her arms several years ago.
Tattoo artist Ashley McMullen reportedly called out the singer for calling the pink lips tat a "vagina tattoo," which Lovato covered up with a giant rose. She didn't appreciate Lovato's comment and lashed out at the singer, claiming she was drunk during the tattoo session and "pissed over our toilet seat."
"What a shame, people look up to you," McMullen said on Instagram, alleging Lovato never paid for the tattoo either. "The tattoo you covered it with kinda sucks too."
On Thursday, Lovato responded to McMullen's claims in a lengthy Twitter message, according to People. It has since been deleted.
"I wasn't going to acknowledge your bitter Instagram comments but since your side of the story has picked up some headlines, I would like to share my thoughts and send a proper apology," she wrote.
She continued: "First, I would like to say I'm really sorry I don't remember you or getting tattooed by you, but as you know I was f***** up and sometimes people act like '#turds' when they're loaded. Second, I apologize for my '#peepeetoiletseat' … that wasn't on purpose, I was simply a drunken teenage girl."
Lovato also apologized for making fun of the original tattoo, but that "if I were you, I wouldn't claim that one because it looked more like an open vagina (or even a butt hole as my 8-year-old little sister called it at the time)."
She went on to question why McMullen would tattoo her in the first place, since she was wasted during the session.
"I can't blame you for getting the tattoo. I take full responsibility for that but if the issue here is you wanting credit, maybe next time you should wait for the person to get your tattoo sober so they would actually remember getting the tattoo in the first place, or perhaps you could've thought about all of this as a blessing that I forgot everything about you – that was until you outed yourself for the now internationally infamous 'vagina tattoo,'" Lovato wrote. "But you're right, I should give credit where credit is due, and you Ashley, surely deserve credit for this one."