Demi Lovato Lesbian Fling Rumors Heat Up After Claim By Australian DJ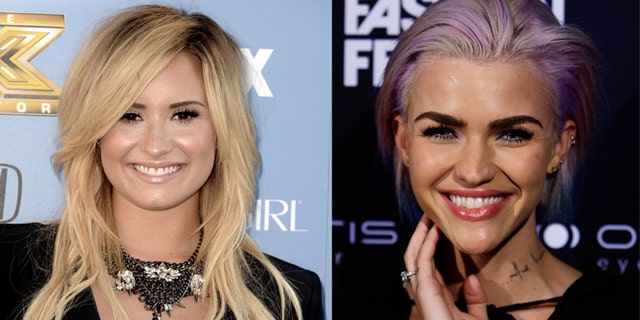 Singer Demi Lovato has mostly avoided talking about her relationships and dates, but that has not stopped others from starting up drama.
The 'Made In America" singer's sexuality is the topic of the conversation once again after a female Australian DJ claimed they slept together by posting an onslaught of messages on Twitter and Instagram.
Australian DJ Ruby Rose, 27, got the social media rumor mill rolling when reportedly commented on an Instagram picture that she liked Lovato's new blue hair.
Later Rose, who is also a model, added more fuel to the fire when she tweeted: "Think i'll take a few days off social media while @ddlovato's friends attack me for being a 'scorned ex-lover'. get over it!! I liked the hair."
This opened up the rumor flood gates and Rose then dropped a little bomb: "I'm like the one person demi has slept with that didn't sell on naked photos of her so eff off @rogoldbe."
Rose seemed to then backtrack when negative messages flooded her timeline.
On Sunday the DJ tweeted: "What just happened to me on (Instagram) wasn't very nice and I retaliated because I stood up for myself. It's all sorted now. Back to business…"
The Twitter messages were deleted after that and Rose tried to distance herself from the social media outburst. She didn't, however, retract her claim that she and Lovato, 21, slept together.
Rose then wrote: "Listen, im in no way shocked or offended by the shade I'm getting from people who have simply cropped my reply to what actually started this. However I in no way initiated this, nor did I say something that wasnt already written in the ridiculous post. One sided replies dont cut it."
Rose summed it all up by tweeting: "However, love and peace to everyone. It is what is it. Remember it doesn't really matter what people think. Its what you know that counts."
There has been no word from Lovato's camp on the rumor, though her representatives said they had "no comment on this sort of conjecture."
Follow us on twitter.com/foxnewslatino
Like us at facebook.com/foxnewslatino