Delicious Dishes for National Pumpkin Day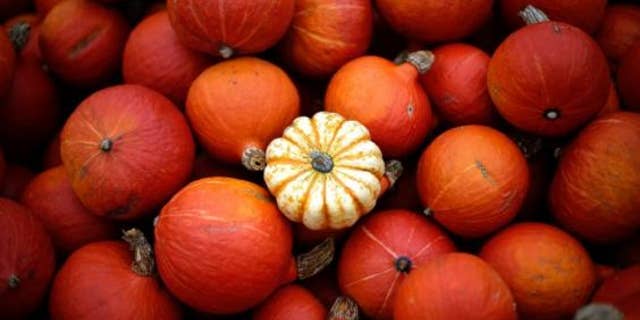 NEWYou can now listen to Fox News articles!
Pumpkins aren't just for carving!
Celebrate National Pumpkin Day with these delicious recipes from Delmonico's!
Grilled Delmonico Steak with Crispy Pumpkin Dumplings
Ingredients
18-ounce Delmonico Rib Eye
½ cup pumpkin
½ cup flour
1 egg
3 tablespoons butter
½ cup Parmesan cheese
½ teaspoon salt
1/8 teaspoon nutmeg
Method: Pumpkin Dumplings
Whisk together all ingredients and slowly add flour to form a soft dough. Boil large pot of water and add 1 teaspoon of salt. Using a wet spoon, carefully drop a teaspoon of the dough into boiling water, teaspoon by teaspoon until the mixture is gone. Cook for approximately 10-12 minutes on medium-high heat; remove from water and drain on paper towel. Melt butter in large pan over medium heat; add dumplings and sauté until lightly browned. Remove and sprinkle with Parmesan cheese and sea salt.
Method: Delmonico Steak
Grill Delmonico Rib Eye to desired temperature serve with hot pumpkin dumplings.
Roasted Pumpkin Risotto
Ingredients
1-2 pound small sugar pumpkin
½ cup pumpkin puree
I cup risotto
2 ounces La Querica Prosciutto
4 cups chicken broth
1 medium onion
3 cups shredded Parmesan cheese
12 fresh sage leaves
½ cup Pinot Grigio
3 tablespoons extra virgin olive oil
1 teaspoon kosher salt
Method
Preheat oven to 425 degrees.
Cut pumpkin into quarters and remove seeds; brush with olive oil, sprinkle with salt, and roast face up for approximately 20 minutes. When tender, remove pumpkin from oven, peel and cut into ¼ inch pieces, keeping wedges warm.
Add one tablespoon of olive oil, prosciutto and sage leaves to large sauté pan and heat until crispy, approximately 5 minutes; remove and place on paper towel.
Add onion to pan and stir over medium heat until tender, approximately 4 minutes. Add risotto to pan and cook over low heat, adding pinot grigio. Cook over low heat until pinot grigio is evaporated. Then, slowly pouring in the broth and pumpkin puree, for approximately 20 minutes, until rice is soft. When rice is fully cooked, add cheese and pumpkin cubes. Stir gently until cheese melts, pumpkin is hot and broth is absorbed. Top with shredded Parmesan cheese and serve.
Roasted Marshmallow and Pumpkin Pie
Ingredients
Premade 8-inch graham cracker crust
8 ounces softened cream cheese
2 cups canned pumpkin
1 cup sugar
1 large egg
1 cup heavy cream
¼ cup melted butter
¼ teaspoon salt
1 teaspoon vanilla extract
½ teaspoon cinnamon
¼ teaspoon ground ginger
½ cup pumpkin seeds
3/4 cup semisweet chocolate chips
½ cup mini toasted marshmallows
Method
Preheat oven to 325 degrees.
Spread pumpkin seeds evenly on greased baking sheet; bake for 20-25 minutes. Remove and set aside to cool.
Melt chocolate chips in double boiler. Coat cooled pumpkin seeds with melted chocolate. Place on parchment paper and lightly sprinkle with sea salt. Set aside to cool.
Method: Pie Filling
In the bowl of a stand mixer mix all remaining ingredients using paddle attachment. Mix until well blended and pour into graham cracker pie shell. Top with marshmallows and chocolate covered pumpkin seeds. Bake at 325 degrees for 25 minutes.
Braised Short Rib Pumpkin Chili and Crispy Polenta Croutons
Ingredients: Braised Short Rib Pumpkin Chili
2 pounds of boneless beef short rib
1 large diced onion
1 large red pepper
2 15-ounce cans of red kidney beans, drained
1 28-ounce can peeled tomatoes with juice
½ cup canned pumpkin puree
1 tablespoon pumpkin spice
1 tablespoon chili powder
¼ cup dark brown sugar
Ingredients: Crispy Pumpkin Polenta Croutons
1 tablespoon extra virgin olive oil
2 cups chicken broth
2 cups milk
2/3 cup polenta
1 ½ cups of canned pumpkin
¼ cup grated Parmesan cheese
Salt and pepper
Method: Braised Short Rib Pumpkin Chili
Preheat oven to 325 degrees. Slow roast short ribs for approximately 6 hours, until tender. Remove and shred with fork.
In a large pot, cook onions and peppers for approximately 5 minutes over medium heat. Stir in beans, tomatoes, and pumpkin; cook for additional 2 minutes. Add shredded short rib and cook for an additional 5 minutes, until mixture is heated through. Serve in pumpkin bowl.
Method: Crispy Pumpkin Polenta Croutons
Preheat oven to 350 degrees.
In a small pan over medium heat broth and milk and bring to boil. Slowly mix in the polenta, reduce the heat to low, and cook for approximately 20 minutes, mixing occasionally, until thick and creamy.
Remove from heat. Mix in the pumpkin, olive oil, and Parmesan cheese; season to taste. Spread polenta evenly on cookie sheet; when cool, cut in small cubes; transfer to pan and sauté with teaspoon olive oil until golden brown approximately 5 minutes.
Method: Pumpkin Bowl
Preheat oven to 400 degrees. Cut a large circle around the stem of each pumpkin, remove top and scoop out seeds and fibers. Rinse and pat dry. Sprinkle 1/2 teaspoon each sugar and salt inside the pumpkin. Place the pumpkins and lids on a baking sheet; roast until tender, approximately 20 to 35 minutes, depending on size.
Dark Chocolate and Candy Corn Vanilla Spiced Bread Pudding
Ingredients
2 cups TruMoo Vanilla Milk
2 cups heavy cream
8 slices of brioche
8 large eggs
½ cup sugar
1 cup light brown sugar
1 cup of dark chocolate pieces
½ tablespoon cinnamon
½ tablespoon vanilla extract
¼ cup vanilla candy corn
¼ cup chocolate candy corn
Method
Preheat oven to 350 degrees.
Blend all ingredients together in a large bowl, strain and soak brioche in the mixture for at least 30 minutes.
Pack soaked brioche into 3-inch round ring molds and place in 10 x 15 roasting pan. Fill roasting pan ¼ of the way with water and cover with plastic wrap. Bake for 15-20 minutes at 350 degrees.
Remove brioche from ring mold and top with vanilla and chocolate candy corn.
Root Beer and Bloody Cherry Ice Cream Float
Ingredients
6 ounces TruMoo Chocolate Milk
6 ounces root beer
2 ounces cherry ice cream
2 ounces whipped cream
½ cup pumpkin seeds
½ cup dark brown sugar
¼ teaspoon pumpkin spice
Method
Preheat oven to 325 degrees.
Mix brown sugar and pumpkin spice in mixing bowl with pumpkin seeds. Spread evenly on a greased aluminum baking sheet and bake 20-25 minutes.
Pour TruMoo Chocolate Milk and root beer into 16-20 ounce glass; add ice cream and top with whipped cream and candied pumpkin seeds.
Roasted Pumpkin and Butter Nut Squash Soup
Ingredients
1 medium pumpkin
1 medium butternut squash
1 cup Holland leeks, chopped
1 tablespoon crushed garlic
6 cups chicken stock
¼ cup heavy cream
2 teaspoons brown sugar
¼ teaspoon nutmeg
Salt and pepper to taste
Method
Preheat oven to 375 degrees.
Peel pumpkin and squash, remove seeds, and cut into small chunks. Toss pumpkin, squash, and leeks with olive oil, salt, pepper, and garlic. Spread evenly on baking tray and roast for 25 minutes, until tender.
When tender, remove from oven and transfer to large saucepan. Add 3 cups of chicken stock and mix with hand blender, breaking down squash, pumpkin, and leeks. Add remaining broth, brown sugar, and nutmeg and blend until the desired consistency is reached. Cook over medium heat for 30 minutes, adding cream and season to taste.