'Deadliest Catch' Season 14 recap: The stakes are high for the 200th episode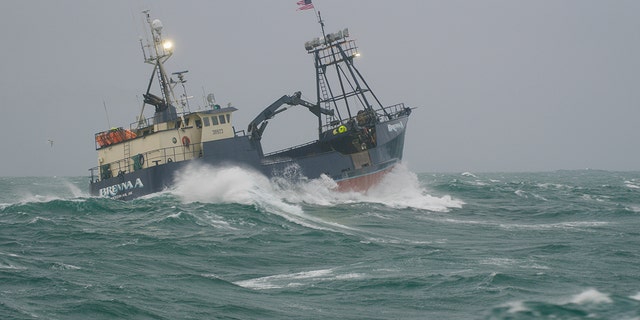 Everyone's favorite Bering Sea fleet returned for the impressive 200th episode of Discovery's "Deadliest Catch." In the Season 14 premiere, the stakes were higher than ever as the captains prepared themselves for a much needed fishing season.
Each captain has their livelihood hanging in the balance, but none more so than new captain Jake Anderson. After spending the off season dumping roughly $750,000 into his ship, the Saga, he spent some of his prep time trying to squeeze intel out of his former mentor, and captain of the Northwestern, Sig Hansen.
Unfortunately for him, his attempts fall flat when Sig thinks he's being called a radio fisherman by the young captain. Hansen's crew is worried about stressing him out after his heart attack and are upset to see him angrily throwing Anderson off his boat. Just like that, the two captains are feuding.
Additionally, "Wild" Bill Wichrowski gets an upsetting call that Sean Dwyer has poached 20 percent of his quota for the season. Fortunately, their first day out Wichrowski figures out a friendly way to bury the hatchet between them. Realizing he's close to his rival's ship, Wichrowski suggests a friendly competition to see who can get ten pots in the water first. The older fisherman is confident as he's got a trick up his sleeve. His gambit of throwing in the pots by hand after stacking them on the deck pays off as he moves more than twice as fast as his rival.
Meanwhile, Anderson finds himself in trouble after his first string of pots fail to yield positive results. Despite studying the surveys for a good long time, he's not bringing in what he needs. Just as he's feeling hopeless, he gets a lifeline from captain Keith Colburn. The seasoned fisherman is the only captain to have found a sweet spot that's paying off with crabs. However, the rest of the fleet is catching on and heading in his direction. He decides to give his coordinates to Anderson in the hopes that the rest of the fleet will see too many cooks in the kitchen and go in another direction. It's just the lifeline Anderson needs to get back on track and prove that Sig was wrong about his inability to get his own information.
However, he'll have his work cut out for him if he's planning to outperform the older fisherman. Sig set out with the intention of putting a lot of test pots out there and seeing what worked. Fortunately for him, he's able to rake in the most crab from his early pots out of any of the other boats. Returning captain Josh Harris doesn't do too badly either, getting passable pots in for his decision to cast in shallow water thanks to the drop in temperature.
Just as Sig is celebrating his big win, he notices the same problem as Colburn, with his spot about to be a not-so-well-kept secret. Realizing that he may need some help, he puts in a call to Anderson, but the first-time captain doesn't pick up. He's clearly made his ally and is sticking with it, not realizing that a potentially more lucrative offer is waiting.