'Deadliest Catch' Season 14, Episode 14 recap: Tensions rise as crews members misbehave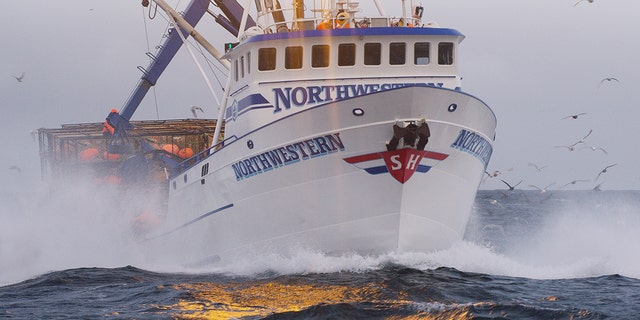 As the unforgiving opilio crab season continues to grind on, tensions rose on the Bering Sea as captains tried desperately to meet their quotas in "Deadliest Catch" Season 14, Episode 14.
The episode opens aboard the Northwestern, where captain Sig Hansen welcomed his daughter, Mandy, as his skipper-in-training. With harsh winds on the way and the boat docked in the notoriously hard-to-leave St. Paul, he hopes it'll be the perfect opportunity for her to get some experience at the helm of the ship.
Meanwhile, aboard the Wizard, a short-handed crew is getting salty at the large vessel's engineer, Tony. Forced to divide his time in the engine room as well as doing his duties on the deck, the four guys stuck doing all the heavy lifting can't help but gripe about the fact that Tony isn't pulling his weight, despite what's going on below deck. No one takes more exception to this than Freddy, who continues make jabs and threats at Tony if he doesn't spend more time on the deck.
Eventually, things reach a boiling point when the two almost come to blows in the kitchen, forcing captain Monte to step in. He manages to solve the dispute, but notes that not being as abrasive as his brother would have been may only make the solution a temporary band-aid.
On Captain Wild Bill's boat, things are getting tense as well. After a mechanical malfunction set the trip back several days, the crew is playing catch up. That's why the captain gets so frustrated when his own guys misquote him on how much bait they have. Eventually, he catches on to the lie and announces that they'll have to cast a shorter net and take a more surgical approach to fishing the area. As a result, he's putting all his eggs in one basket on a historically lucrative area.
When the time comes to pull the pots up, Wild Bill is worried that they'll be empty and he'll be in even more danger of missing his quota, while the crew is waiting on bated breath to see exactly how much trouble they're in. Their first few pots are complete duds, making everyone a little discouraged. However, that turns around in a big hurry when pots start coming up with over 300 crab inside. Just like that, the crew is down but not out.
The episode opens on a sweet note aboard the Northwestern. After hours of working the helm herself, Mandy has picked up her dad's tricks. Although it was a rocky start, she seems to get the hang of it, prompting Sig to wonder if he'll be able to pass the torch of the family business someday soon