'Deadliest Catch' recap: Sig Hansen suffers chest pains during epic storm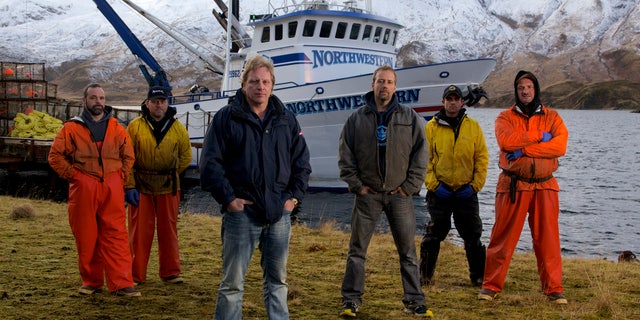 Veteran "Deadliest Catch" captain Sig Hansen, who survived a heart attack in February 2016, suffered chest pains again on Tuesday night's episode of the Discovery Channel show.
After failing to catch much crab in cold and icy conditions, Hansen and the crew of the Northwestern had to outrun a bad storm that followed an Arctic hurricane.
"We need to get the heck out of here," Hansen worried.
As the episode ended, the stressed-out skipper phoned his wife June from the wheelhouse and said, "I have muscle pain and I have rib pain on the back side."
Hansen added ominously, "I don't know if I have it again."
The captain swallowed a "nitro pill" and told the cameras, "I was feeling pain ... I'm feeling all tight and painful. It's f---ing freaking me out. I don't know what's wrong with me."
As "Deadliest Catch" fans know, Hansen returned to the helm of his crab fishing boat this season after recovering from the heart attack that nearly took his life last year.
Hansen had been medically cleared to sail, but appeared to have a setback Tuesday, and viewers were promised that they would find out next week how serious the situation became.
Meanwhile, the other skippers wanted tried to grab all the crab they could before getting clear of the storm.
On the Saga, Jake Anderson said the weather was a nightmare—and his crew was dog tired.
Anderson and his nemesis, deck hand Dean Gribble, had resolved their conflict on an earlier episode, but soon they were at each other's throats again.
After the crew pulled up plentiful pots of crab, Gribble told Anderson that the men were hungry and upset, suggesting it was time for a break.
Anderson erupted, lecturing Gribble that he knew how to run his own ship and shouting, "Get the f--- out of my wheelhouse!"
The Saga chief said to the cameras, "He went too far."
As the crew was pushed to their limits, Gribble complained how tired he was hauling gear, then said, "Get me on a real boat with a real captain."
When Anderson overheard the comment, he exploded.
"You're a cancer! Get the f--- off the deck!" Anderson shouted at Gribble from the wheelhouse.
Anderson urged the other men to "remove him right now!" But when one of the workers tried to grab Gribble, the Saga veteran pushed back.
"You're fired! Get off my deck, Dean," screamed Anderson, who added to the cameras, "This guy's a danger."
When Gribble tried to enter the wheelhouse, Anderson threatened to call the Coast Guard and invoke maritime law on the deck worker. Gribble was ordered to his cabin and Anderson headed to St. Paul to drop off his fired crew man.
There was also a crisis on the Wizard after Keith Colburn suddenly lost air controls.
"I'm dead in the water," he radioed his crew.
Colburn was unable to position the boat without his controls and was drifting in the stormy sea.
Luckily for the experienced captain, his engineer was able to fix a leak in the throttle controls and he was once again able to steer his boat.
As the storm descended, Time Bandit captain Johnathan Hillstrand said, "This is a f---ing ship sinker."
But hopefully, Captain Hansen won't wind up the one going down.