David Letterman Making Tiger Woods Jokes? No Joke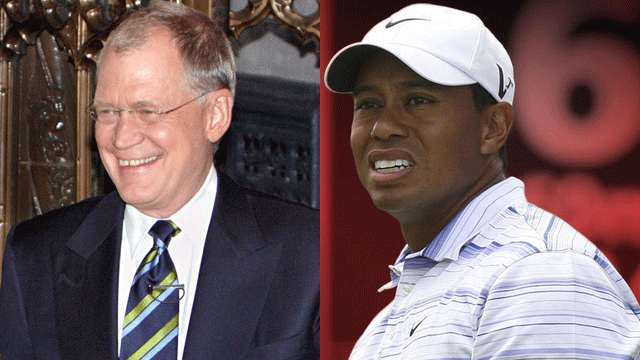 David Letterman did not shy away from Tiger Woods' troubles during his "Late Show" monologue Monday night, joking he wishes the golfer would stop asking him for advice.
Letterman was on vacation last week, and opened his monologue with the subject of Woods, even though the late night host is only a couple of months removed from his own sex scandal.
Letterman said, "Boy, it looks like that Tiger Woods is having some trouble, huh?"
RELATED: Woman taken from Tiger Woods house in ambulance.
In October, Letterman admitted to workplace affairs police say led to a blackmail plot. Woods last week admitted letting his family down with "transgressions" that became known following a Thanksgiving weekend car crash outside his Florida home.
Letterman asked the audience members to clap if they thought Woods was a "jerk." Letterman then asked them to clap if they thought he was a jerk.
Both received applause.
SLIDESHOW: The 'other women' linked to Tiger Woods.
Last week, Woods issued a statement saying he had let his family down with unspecified "transgressions" that he regrets with "all of my heart." He did not elaborate.
Woods' statement came following a car accident outside his house during the Thanksgiving weekend, and a tabloid report linking him to a nightclub hostess Rachel Uchitel.
SLIDESHOW: Tiger's wife Elin: from bikini model to billionaire's wife.
The married golfer has since been linked to as many as 10 women.
A police report on the crash released Monday showed that a Florida trooper who suspected Woods was driving under the influence sought a subpoena for the golfer's blood results from the hospital he was taken to after the crash, but prosecutors rejected the petition for insufficient information.
RELATED: Number of women linked to Woods reaches 10.
A witness, who wasn't identified in the report, told trooper Joshua Evans that Woods had been drinking alcohol earlier. The same witness also said Woods had been prescribed two drugs, Ambien and Vicodin.
The report did not say who the witness was but added it was the same person who pulled Woods from the vehicle after the accident.
TMZ reported early Tuesday that Woods was admitted to the hospital as an overdose patient under the alias "William Smith."
Sources at the Health Central Hospita l said Woods' admissions chart specified "OD" and mentioned he was having trouble breathing., TMZ reported.
Woods' wife, Elin, has told police that she used a golf club to smash the back windows of the Cadillac Escalade to help her husband out. His injuries were minor.
- The Associated Press contributed to this report.